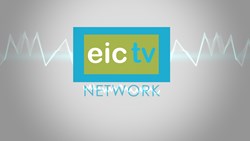 EICtv Network is launching students into learning through multimedia events and activities aimed at encouraging them in science, engineering and technology.--Brian Dyak, President and CEO of EIC
Washington, DC (PRWEB) October 03, 2013
The Entertainment Industries Council, Inc. (EIC) and TVWorldwide teamed with NASA Associate Administrator for Education and former Astronaut Leland Melvin for a unique launch of the Science, Engineering and Technology Channel on EICtv (EICnetwork.tv). During the one-hour event, some 1,000 tuned in to see the former two-time shuttle Astronaut take questions from nearly a dozen Junior Reporters, ages 6-12.
"How many of you have on tennis shoes?," NASA Associate Administrator for Education and former two-time space shuttle Astronaut Leland Melvin asked the Junior Reporters during the event. "When we walked on the moon we had something that looked something like tennis shoes as they were bouncing around. So, a lot of these things have come from NASA technology…If you think about your math that you are studying now, if you think about being creative as an artist, we use artists to help depict what future civilizations or the buildings will be on Mars one day, so, all of these things are combined," Melvin continued.
"EICtv Network is launching students into learning through multimedia events and activities aimed at encouraging them in science, engineering and technology," said Brian Dyak, President and CEO of EIC. "Using the power of entertainment, and by integrating young people into the conversation, we are elevating the experience and creating a peer-to-peer learning environment that stimulates and inspires. We plan to expand the network to include discussion questions and activities that can be used at home and in the classroom to heighten the experience."
"The students asked wonderful questions. They wanted to know about education, what it takes to become a part of the NASA team, how NASA inspired, and even, supported the creation of tennis shoes, golf balls and hair straighteners. I mean, they asked all the questions kids around the globe have wanted to ask an Astronaut – including the physics of bathroom breaks and taking pets into space. We're still receiving emails from parents saying, 'My son is eating vegetables now because Mr. Melvin told him it was important if he ever wanted to travel in to space.' It's great to make this experiential learning possible and to share it with kids everywhere," said Dave Gardy, CEO of TVWorldwide.
"Student fascination with space remains high, positioning EICtv as a novel platform for teaching science, math and technology concepts through the mystique of exploration and space travel," Dyak concluded.
To view the special, visit EICnetwork.tv.
For more information or to submit content, please contact EICtv(at)eiconline(dot)org.
About Entertainment Industries Council
EIC is a non-profit organization founded in 1983 by leaders within the entertainment industry to bring the power and influence of the industry to communicate about health and social issues. The organization is considered to be the chief pioneer of entertainment and journalism outreach and a premiere success story in the field of entertainment education. This mission relies on providing resource information to the creative community and culminates in recognition of the industry through the national television special PRISM Showcase which addresses accurate portrayals of substance use issues and mental health concerns. The organization also produces the S.E.T Awards, honoring positive and non-stereotypical portrayals of science, engineering and technology.
For a complete list of health and social issues addressed by EIC and local projects please visit First Draft and EIC's website. EIC's web site is http://www.eiconline.org. The PRISM Awards web site is http://www.prismawards.com.