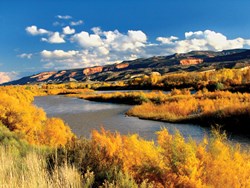 Rates start at $60 per night; Offers are valid Sept. 1 – October 31, 2013
Grand Junction, CO (PRWEB) October 04, 2013
As the trees don their autumn finery of golds, oranges and reds, Grand Junction is celebrating the season with special packages to enjoy a different sort of red—wine, that is.
Grand Junction is offering a compelling reason to visit this fall with the Colorado Wine Country Fall Getaway Package. There are 21 wineries in the Grand Valley, more than enough to fill a long weekend with sampling. In addition to wine, Grand Junction is also home to breweries and distilleries, hundreds of miles of hiking and biking trails, golf courses, rafting adventures, museums and more.
With 12 different properties offering special packages at varying rates, there is bound to be a package that is a perfect fit. It's harvest time for the wineries and there is no better time to tour and learn more about viniculture. If a more relaxing visit is in order, it's easy to simply sit back and enjoy the fabulous fall scenery in Grand Junction.
Here are just a few of the options to choose from for the Colorado Wine Country Fall Getaway, with many properties offering added value such as free breakfasts, gas cards, in-room gifts and more. Each package is different; guests are encouraged to look at each property's offerings before making a decision.

America's Best Value Inn - $62/night
Comfort Inn - $84/night
Courtyard by Marriott - $109-$129/night
DoubleTree by Hilton - $114/night
Fairfield Inn & Suites by Marriott - $119.95/night
Grand Vista Hotel - $79/night
Hampton Inn - $119.95/night
Holiday Inn Express & Suites - $94/night
Springhill Suites by Marriott - $119.95/night
Super 8 Grand Junction - $60/night
The Bookcliffs Bed & Breakfast - $110/night
Wagon Wheel Motel - $110/night
For more information or to book any of the Colorado Wine Country Fall Getaway Packages, visit http://www.visitgrandjunction.com/fallgetaway or call 800-962-2547.
About Grand Junction
Nestled near 11,000-foot Grand Mesa and the 7,500-foot Book Cliffs, Grand Junction (http://www.visitgrandjunction.com) is the largest city in western Colorado. At an altitude of 4,586 feet, warm summers and moderate spring, fall and winter seasons allow for year-round golf, hiking and biking. Boasting more than 275 days of sunshine annually, Grand Junction recently was named one of the eight sunniest cities in the United States by TourismReview.com. Among Grand Junction's spectacular red cliffs and winding canyons are the Grand Mesa, the world's largest flat-topped mountain, the Colorado National Monument, Book Cliff Wild Horse Area, two national scenic byways and five golf courses. Grand Junction lies in the heart of the Colorado-Utah Dinosaur Diamond. The area also is home to Colorado's wine country, with nearly 30 vineyards and wineries.