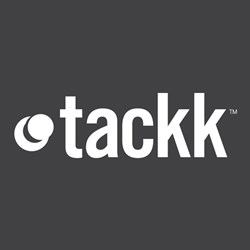 Cleveland, OH (PRWEB) October 08, 2013
Tackk the web's simplest universal content creation & sharing format, announced it has emerged from Beta and has secured a $1.2 million Seed B round, led by ff Venture Capital.
Originally launched in Fall 2012, Tackk has quickly developed a reputation as one of the web's simplest tools for instantly creating and sharing robust content across virtually any social network.
"Our goal during the Beta phase was to successfully demonstrate both the simplicity of the Tackk platform, and its ability to be used across multiple use cases," explained Tackk co-founder Eric Bockmuller. "With a growing population of high-frequency Tackkers, our primary goal with this release was to enhance the social dynamics of Tackk, without sacrificing the simplicity our users have come to expect."
To date, Tackk has attracted more than 800,000 unique visitors, and has been used for everything from class assignments to Craigslist postings to promotions to recipe sharing to real estate and more. A full range of use cases can be seen on the Tackkboard.
As part of its emergence from Beta, Tackk has added several new features:

Robust creator profiles and social dynamics (ie, following, liking, notifications)
Enhanced Tagging system and Tackkboard design
Fully responsive design, allowing for both content creation & consumption on multiple devices
Additional sharing & embedding options
Tackk's new release is accompanied by an infusion of additional capital, with a $1.2M Seed B round, led by ff Venture Capital, and several existing Tackk investors, including Hatch Partners & Drummond Road Capital.
John Frankel, founding partner at ff Venture Capital, expressed enthusiasm for both Tackk and the content creation space it has targeted. "Tackk has built a simple, visually appealing and most importantly, dead simple web page creation tool," said Frankel. "By using Tackk, anyone can instantly create and share, versus being locked inside a specific social network. That is very powerful and has unlimited potential for expression."
Noting the impact of this round, Tackk President Kyle Stalzer highlighted the value of both the capital and the experience ff Venture Capital and the other investors bring to the table. "Raising a million dollars is great; but more important for Tackk at this juncture is the additional experience and strategic relationships this round of investors bring to the table. We couldn't be more excited about what this means for the next phase of Tackk's growth."
About Tackk
Tackk is the web's simplest online content creation and sharing format. Described by both reviewers and users as "ridiculously simple" and "offensively easy to use", Tackk empowers anyone to instantly create & share captivating content online. A Tackk can include almost any sort of content, including copy, images, video, and music. And once created, a Tackk can travel freely across the web - post it, tweet it, pin it, paste it into Craigslist, link to it on LinkedIn, or email it. While the basic version of Tackk is freely available to anyone; Tackk can also be personalized for both premium and promotional programs.
About ff Venture Capital
ff Venture Capital is an institutional venture capital firm in seed-stage companies. Since 1999, the firm has made over 180 investments in over 72 companies. Notable exits include Cornerstone OnDemand (IPO, CSOD) and Quigo Technologies (sold to AOL for a reported $340m). ffVC has twenty employees based in New York and New Jersey and extensive resources dedicated to its portfolio companies, including recruiting assistance, finance and accounting services, communications and branding strategy, and engineering solutions.