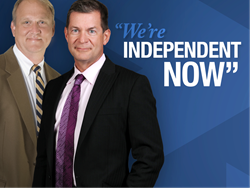 Together, we are going to take Creative's brand, its marketing services and its production to a new level.
Kansas City, MO (PRWEB) October 08, 2013
Creative Marketing International Corporation's Management today announced that CM2 Holding Inc., a Kansas holding company on October 1, completed the purchase of the stock of Creative Marketing International Corporation from Aviva USA.
The transaction was unanimously approved by both Aviva USA and Athene Holding Ltd., which acquired the former in a stock transaction shortly following.
The new majority owners of CM2 are in current management: Mike Tripses, President, and Will Moneymaker COO/CFO. One additional minority owner, Mark Heitz, was formerly President of Sales & Distribution for Aviva USA.
The transaction provides Creative's Management ownership of one of the industry's leading insurance and financial wholesalers. As an independent and privately owned corporation, Creative Marketing will be well equipped to take advantage of the changing competitive dynamics in the market and capitalize on the continuing evolution of consumer demand for retirement solutions through Annuities, Life Insurance and Securities.
Mike Tripses, President and Principal Owner said: "We appreciate the partnership with Aviva USA, one of the premier manufacturers of life insurance and annuities, over the last 13 plus years we were owned by them. We thank our past board of directors and our Aviva company liaisons that supported our successful sales and marketing, which propelled the quadrupling of production during that time." Tripses continued, "Creative's management has been working to take the company independent since the announcement last year that Aviva plc was selling its U.S.-based divisions. To borrow a phrase, our Creative Marketing family, including our employees, agent/advisor partners, and insurance carrier partners, will get to experience the new 'total benefits of ownership.'"
Creative Marketing's new ownership will focus on solidifying the company's status as the industry's leading IMO and executing an aggressive growth strategy.
Will Moneymaker said: "This transaction will enhance our value to our producers through additional product offerings and more efficient operations. Advisors face a rapidly evolving marketplace and innovation in client contact methods. Creative Marketing will lead the way in helping our independent advisors achieve success in this environment."
Mark Heitz, who while with Aviva had responsibility for owned marketing organizations, including Creative, said, "This is a great opportunity for one of the highest quality IMOs in the industry. Creative will take full advantage of the potential that independence brings. Creative has always demonstrated commitment to honest, fair dealings and personal relationships with agents and their insurance company partners. I know the management at Creative well. They are quality people and provide quality guidance to agents, and I am proud to be included in ownership."
Mike Tripses, noted, "We will continue our relationships with all of our insurance carrier partners and friends for whom we have become a go to marketing organization they can count on." The company recently announced the acquisition of the EquiTrust Life Insurance Company IMO contract. This new relationship gives Creative the status of sole independent IMO with distribution rights to products from Annexus, EquiTrust and Security Benefit Life's TVA, along with the top products of our existing carriers.
"This is truly a great day for all of our employees, producers and new owners. Together, we are going to take the company's brand, its marketing services and its production to a new level," said Mr. Tripses.
ABOUT CREATIVE MARKETING INTERNATIONAL CORPORATION
Creative Marketing, a leading national marketing organization for annuities, life insurance and securities has been assisting insurance and financial professionals with building a successful practice since 1984. Providing affiliated agents and advisors with hundreds of product options from a variety of carriers, the company delivers superior agent education, marketing, training, substantial back-office support, and considerable industry expertise by more than 130 talented and knowledgeable employees. Creative Marketing sets an industry standard for its commitment to excellence, ethics and integrity in business, and agent-advisor satisfaction. Located in Leawood, Kansas, Creative Marketing is making a difference in the lives of its affiliated insurance agents and financial professionals, as well as the clients they serve. To learn more about Creative Marketing, visit us on the web at http://www.creativemarketing.net. Securities and Advisory Services Offered Through Client One Securities, LLC Member FINRA/SIPC and Investment Advisor.