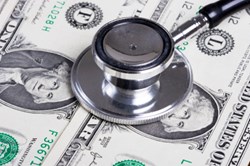 Physicians should not make any immediate decisions based on fear, greed, or other emotions when it comes to their investment portfolio.
St. Louis, MO (PRWEB) October 03, 2013
After Congress was unable to reach an agreement on a spending bill, the U.S. Government has shut down for the 18th time since 1977. Naturally, physicians have questions. How will this affect an investment portfolio and what needs to be done about it?
History of government shutdowns
Today's political landscape is very similar to the one President Clinton faced in 1995, after the Republican Party took control of both the House and the Senate during the 1994 mid-term election.
The government shut down on two separate occasions between late 1995 and early 1996 – for a total of 28 days. Although no two situations are exactly alike, it is helpful to look back at historical events.
The shutdowns during the mid '90s caused GDP growth to stall slightly in the early part of 1996, but it rebounded sharply halfway through the year. Some analysts are willing to go so far as to say that a government shutdown might actually be good for the economy. While many may not go that far, it is comforting to see that the stock market can perform well during periods of budget battles.
What does this mean for an investment portfolio?
As is the case with most significant market events (debt ceiling negotiations, budget talks, fiscal cliff, etc…), the market is more likely to reflect these events during the days leading up to the actual occurrence. This is likely why the S&P 500 was down almost 1.5% last week. Investors should not time the market based on short-term noise, but the ship has likely sailed for an investor trying to make money on the news of a government shutdown.
Physicians should not make any immediate decisions based on fear, greed, or other emotions which might tempt one to go all-in on a booming market, or sell everything amidst the uncertainty of a political event.
Due to the potential increase in volatility, it is necessary to monitor each and every portfolio to make sure allocation and risk posture are within defined thresholds.
The global equities market is up more than 20% over the past 12 months – a period which includes other news-worthy events like Hurricane Sandy closing the NYSE, a presidential election, a Eurozone recession, and a major U.S. city filing for bankruptcy.
The intention is to not minimize investors' concerns regarding these events, but it is important that a physician separate these thoughts and feelings from their investment decisions.
By: Paul Larson
President & CEO of Larson Financial
Advisory Services offered through Larson Financial Group, LLC, a Registered Investment Advisor. Securities offered through Larson Financial Securities, LLC, Member FINRA/SIPC.