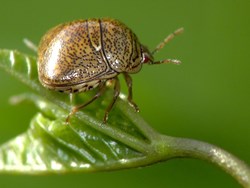 David Price says we get calls asking, "How do you get Kudzu Bugs under control? They're everywhere; the Kudzu bugs even covered my car as I was driving down the street. I couldn't even see out my windshield!"
Pelham, AL (PRWEB) October 03, 2013
Vulcan Termite & Pest Control, Inc. is no stranger to the problems that kudzu bugs pose. Last year the bug became a major headache for many Alabama residents. Now again this year, the company says that the pests are showing up in large numbers in and around people's homes.
Kudzu bugs didn't show up in the U.S. until 2009, but in four short years they have spread quickly and have now been found in 43 counties in Alabama.
"People are already starting to complain about Kudzu bugs gathering on their cars and the sides of their home," said David Price, owner of Vulcan Termite & Pest Control, Inc. "In the springtime the bugs pose a big problem to farmers, but in the fall they become a pest for everyone." This, Mr. Price says, is because the kudzu bugs are looking for shelter.
Seasonal Shifts in the Kudzu Bug Pose a Problem
Vulcan Termite & Pest Control, Inc. is warning homeowners to keep an eye out for kudzu bugs as the temperature begins to drop outside. When spring arrives kudzu bugs become active, laying their eggs on young kudzu. During the summer they eat the kudzu and the population grows.
Then in fall the kudzu bugs begin to ready themselves for the winter. This is when they begin to move off the plants and onto people homes. Like other stink bug species, kudzu bugs will move indoors if given the chance. They are at their height of flight activity during the fall so infestation is more likely during these months.
Vulcan Termite & Pest Control, Inc. has just published information on its website about the kudzu bug and how to control them. They urge all Alabama residents to familiarize themselves with the pest so they better understand how they affect both crops and personal property in the state.
About Vulcan Termite & Pest Control, Inc.
Founded in 1965, Vulcan Termite & Pest Control, Inc. is a family-owned and operated business that provides a wide variety of pest control services for both commercial and residential properties. Dedicated to providing customers the very latest and most effective pest control, Vulcan Termite & Pest Control, Inc. technicians are highly trained and an on-staff Board Certified Entomologist keeps the company up-to-date on the newest advances in the industry.