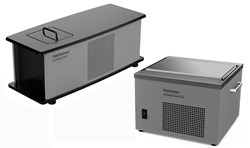 Niles, IL (PRWEB) October 04, 2013
Two easy-to-use devices designed for the fast freezing of tissue samples and specimens are now available from PolyScience. Ideal for enzyme studies, the Histology Bath features a -60°C (-76°F) working temperature that freezes tissue samples quickly, preventing microscopic ice crystals from developing and samples from distorting. With its flat, -34°C (-30°F) surface, the Histology Freeze Plate enables histotechnicians to observe tissue freezing directly and keep specimen edges flat when preparing samples for examination.
The PolyScience Histology Bath has a 1.0 liter stainless steel reservoir and includes an immersion basket and chuck for the easy submersion and retrieval of samples. The bath work area measures 10.2 cm in diameter by 10.2 cm deep (4 x 4 inches). The unit is available for either 120V, 60Hz or 240V, 50Hz operation.
The Histology Freeze Plate features a 877 cm2 (136 in2) working surface that accommodates multiple samples simultaneously and has been shown to reduce overall sample processing time by 40% or more. It is also available for either 120V, 60Hz or 240V, 50Hz operation.
For more information, visit http://www.polyscience.com/en/category-specialty-baths.php#!/category13, email sales(at)polyscience(dot)com, call PolyScience at 1-800-229-7569 (outside the US call 847-647-0611), or fax the company at 847-647-1155.