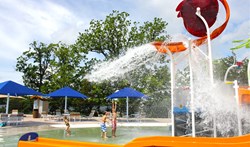 Splashpads are colorful and exciting. They offer greater value than a traditional pool and have a much higher fun value.
Montreal, Quebec (PRWEB) October 03, 2013
Vortex Aquatic Structures International is overjoyed by the recognition Washtenaw County Parks and Recreation Commission will receive for the extraordinary spray park they built and that Vortex Midwest could be part of the project. The NACPRO awards is an annual recognition given to individuals, programs and innovative installations that contribute to the American park system. The category for which Blue Heron Bay at Independence Lake County Park won – the Park and Recreation Award (Class I) - was to honor and focus national attention on their spray park installation as the best in design, planning, construction and benefit to the community.
The Blue Heron Bay is the largest Splashpad® complex in North America with over 20,000 square feet, and with the greatest number of water features. It took two years and cost $4 million dollars to complete. It replaced a former splash park that had operated for about 12 summers and was mechanically failing. The new project involved building the spray park in a more centrally located area in the 414 acre park, significantly improving access to the amenity. Using a Vortex Splashpad®, the spray park implemented some of the most advanced technology in sustainable water usage, including: water distribution system, nozzles, spray sequences, flow controllers and intervals of usage. It also benefits from having the largest Vortex Water Quality Management System (WQMS) ever built, manufactured for the highest efficiency in water recirculation, and includes a UV water treatment to kill over 99% of all harmful bacteria. The splash pad itself can accommodate about 420 people, and will operate from Memorial Day to Labor Day each year.
"Spray parks are colorful and exciting. They offer greater value than a traditional pool and have a much higher fun value," said Jeff Dehring PLA, ASLA, Principal Park Planner for Washtenaw County. "We are delighted to have won this prestigious award from NACPRO and thank Vortex for being such incredible partners in turning our vision into reality."
"Blue Heron Bay is truly something special not only for the community, but also the Midwest, it has all the amenities for the whole family, regardless of age or ability," said Cory Anderson, Managing Partner Vortex Midwest. "We are honored to have been chosen as part of the design team for this project and congratulate Washtenaw County on the win."
The Splashpad® is divided into three areas: a toddler zone features free standing bubbling fountains, plus a turtle and frog who spit large mouthfuls of water on younger children; a sizable family zone, whose main focal feature is the Elevation™ structure highlighted by the Superwave: a tall spinning wheel that slowly fills with water before dumping it on the excited children below. The third "interactive" zone is located at the opposite end of the park from the toddler's section and features a 15' large spider that sprays webs of water in response to activating its Funflow Actuator™. The splash park also has a two-story water slide with two flumes: one that's enclosed and one that's open. This is attached to a 24' tower and uses a run out, rather than a pool, to allow shorter riders & non-swimmers to enjoy the slides.
Vortex will participate in the upcoming NRPA Congress and Exhibition from October 8-10th in Houston, Texas. The Vortex exhibit will be in Booth #921 at the George R. Brown Convention Center and will showcase its full line of aquatic play solutions.
To learn more about the Blue Heron Bay Splashpad®, check out the video and visit Vortex at the NRPA tradeshow from October 8-10th, Booth #921 or contact Vortex through the company website.
About Vortex
Vortex Aquatic Structures international, headquartered in Montreal, Canada, was founded in 1995 with the introduction of the first Splashpad®. Vortex's use of the highest quality materials coupled with unique, inspiring design and state-of-the-art engineering, positioned the company as the world leader in aquatic play solutions.
With over 5,000 installations worldwide and a global distribution network, Vortex's mission is to lead the aquatic play industry by continuing to develop the most fun, innovative and safe products for families and children of all ages and abilities. Vortex: A clear source of fun.
For more information on Vortex Splashpad®, Poolplay™ and Spraypoint® solutions, please visit the company's website at vortex-intl.com.