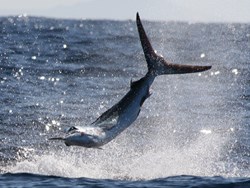 "Wow!" is all we can say and even we, used to the great Cabo fishery, are astounded at how good the catches have been. - Tracy Ehrenberg, Pisces Sportfishing, Cabo San Lucas
Cabo San Lucas, Baja California Sur (PRWEB) October 07, 2013
Every big game fisherman knows that Cabo San Lucas is called "The Marlin Capital of The World", and with good reason. However in recent years the consistency of marlin catches has been lacking. In fact, ever since 2008 when one well-known Cabo fishing charter company caught and released a staggering 2045 striped marlin in one month, things have been decidedly patchy at times with consecutive El Niño and La Niña events being suggested as the culprits.
Not anymore: Cabo is back!
It is generally considered that the best time to go to Cabo to catch a billfish (marlin or sailfish) is during the winter months, with catches peaking late December and through January. Spring and summer generally signals a slow-down in marlin catches, although there is still good tuna and inshore fishing to be had. Striped marlin, the main billfish targeted by fishermen in the area, is still there in numbers during these months, but they are usually not so easy to catch.
Many seasoned Cabo anglers think this is because the fish are spawning; however there is a counter-theory that the fish are feeding deep down on squid during the night and are therefore less inclined to take a bait in the morning. This is backed up by the large numbers of fish found apparently asleep on the surface, warming up in the morning sun. Some can still be caught with a well-pitched bait, but more often they slide gracefully off into the deep never to be seen again. Of those that have been caught, many anglers have reported that the fish had large squid in their throats which lends credence to this theory.
2013 has been different. An analysis of Cabo fishing reports during the spring and summer of this year has shown a striking increase in the catches reported by anglers. On average, during the months of June, July, August and September, 86.89% of fishermen leaving the port caught a marlin, with 56% also catching dorado and 28.56% Yellowfin tuna. In fact , one well known fishing charter company logged 344 Striped marlin caught in the first week of July with a 500lb Blue marlin lost at the boat and one lucky angler catching an amazing 16 marlin himself in one day.
When you consider that only 2.37% of fishermen got skunked during those months – you have to agree that Cabo is most definitely back.
And that is great news as we come into tournament season with The Bisbee's, the richest tournament in the world with over $60m in prize money paid out over the years, kicking off in a few weeks. The fall months normally bring the Blue and Black marlin as the water warms up and this is why October is Tournament month in Cabo. It is also the time for the most parties and fiestas in the town with the world famous Cabo Pimp'n'Ho Ball and Sammy Hagar's Birthday Bash taking place this month.
The great thing about Cabo is of course that it is perfect for the families of fishermen as well. There is a huge range of things to do in Cabo to keep mom and the kids happy if they don't want to fish.
To find out all about fishing in Cabo, check out the weekly fishing reports from all the major charter companies, find out what's on, where to stay and what to do when you and your family are there you can visit http://www.icabo.com – The Ultimate Los Cabos Guide.
Come on down – the fish are bitin'!
Notes to Editors:
iCabo is the trading name of Mexican Corporation iTravel-connected S.A based in San Jose Del Cabo, Baja Sur, Mexico.
iCabo.com is the result of a six figure investment by iPort Software Inc. of Houston, Texas and Coralinn LLP, a private equity fund based in the United Kingdom.
iCabo.com is built using the iPort Business Platform, a fully integrated web technology platform developed by iPort Group International.
Contact: William Scott, iCabo.com, Alvara Obregon 1240, Centro, San Jose Del Cabo BCS
Tel: 624 142 6039
Email chicm(at)iport4business(dot)com
Web: http://www.icabo.com