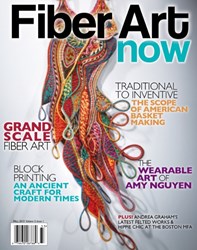 We strive to connect the fiber arts & textiles community. We seek a genuine understanding of the artist's work, the curator's exhibition, or the organization's goals, and attempt to convey that in a heartfelt, sincere way.
Boston, MA (PRWEB) October 03, 2013
In celebration of its second birthday, Fiber Art Now magazine recently released the digital version of its quarterly print publication. Fiber Art Now has been growing steadily since the release of its first issue in the fall of 2010, and is pleased to be sold in over 400 Barnes & Noble and Books-A-Million stores in the United States, 200+ Chapters Books in Canada, and will soon be available at select locations in the United Kingdom.
From its inception, Fiber Art Now has been guided by its mission to connect and inspire the contemporary fiber arts and textiles community by featuring the most compelling work, ideas, and craftsmanship in all of its endeavors. According to Marcia Young, publisher and editor in chief, "Our growth and editorial direction have been driven directly by the members of our community. Our mission statement applies handily to every constituent group that we serve, including subscribers, advertisers, artists, educators, museums, galleries, and other related organizations."
Young remarks, "Fiber Art Now is a worldwide community, and many of our subscribers across the globe are committed to receiving a paper version of the magazine, simply by virtue of their love of fibers. We all are very tactile, and our readers tell us that they save every issue, and are building a collection. Still, many people also want to devour their magazine immediately upon its release, and the new digital version gives them that option." Subscribers who prefer the digital-only version are able to subscribe at a reduced price, making it even more appealing for those who are just getting to know the community and its magazine.
Print subscribers are able to access the digital version for free, giving them both options. Each digital version includes between 150–200 links to artists, suppliers, organizations, and exhibitions, providing readers with a new dimension to pursue their passion. Those features also open the gateway for partner organizations to have their ads automatically accessible to their target audience, with one click. Fiber Art Now also supports all of its advertisers with consistent mentions and links on its online community, which currently totals over 25,000 members and is growing steadily.
The Fiber Art Now team regularly visits artist studios to capture stunning studio images, explore the artist back story, and learn the source of their inspiration. Young states, "Our team seeks to become an invisible player in each story. We strive to serve as a vehicle for our readers to connect with each other. We seek a genuine understanding of the artist's work, the curator's exhibition, or the organization's goals, and attempt to convey that in the most heartfelt, sincere way." To learn more, readers are invited to download the article here and browse more complimentary articles and photo galleries on the Fiber Art Now website.