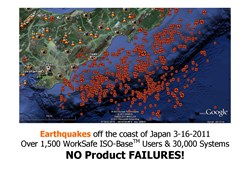 Sunnyvale, CA (PRWEB) October 03, 2013
WorkSafe Technologies of Northern California is excited to be participating in the Earthquake 2013 Business Preparedness Summit. WorkSafe has been providing non-structural seismic mitigation products and services worldwide for over 20 years. It is their commitment to make sure all their customers, and employees, are aware of the seismic risks they face and how to avoid them.
There are many reasons to attend the Earthquake 2013 Summit happening on October 11th at the Juniper Dome in Sunnyvale, CA. Identify the threats companies face on a daily basis. How to assess code requirements, and economically prepare. Discover how to get employees ready, how to asses a company's risks, and the latest in preparedness innovation.
The summit will feature authors, engineers, inventors, first responders and preparedness specialists sharing lifesaving strategies. You will also not want to miss experiencing up to an 8.0 earthquake in the Quake Cottage Mobile Earthquake Simulator.
As for WorkSafe Technologies, they will have examples of the products they recommend and use to reduce the risks of a seismic event. Don't forget to pick up literature on how to stay safe at the office as well as home. WorkSafe will also have a demo ISO-Base™ unit on hand. The patented ISO-Base™ Seismic Isolation Platform is an alternative way to mitigate data cabinets as opposed to rigid fastening (bolting them to the floor). The ISO-Base™ is designed to help mitigate data cabinets from a zone 4 earthquake. Stop by the WorkSafe Technologies booth to find out how.
It's still not too late to register for the event. Follow the above link to reserve a spot now and don't forget to say hi to the local WorkSafe representatives.