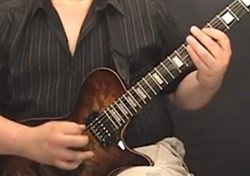 (PRWEB) October 03, 2013
This classic rhythm guitar part by British heavy metal pioneers Judas Priest is a good example of how to play guitar riffs by starting slowly.
Using a distorted tone, Silvio first plays the aggressive Glenn Tipton lick at full speed, then slows it down to half speed, then slows it down again for very quick learning. The pattern is a basic one in E or E minor that uses the low E note on the sixth string as a repeated pedal tone in a three-against-four triplet style rhythm.
The guitar lesson includes a link to printable tabs written both in music notation and tablature for easy reading. Players will have a much better chance of success by starting slowly and working with a metronome to build up speed a little at a time. After learning the basics, players should try adding riffs of their own to develop their own personal style.
Judas Priest formed in Birmingham, England in 1969 and became well known not only for the twin lead guitars of Glenn Tipton and K.K. Downing (replaced by Richie Faulkner) and Rob Halford's operatic, tight-pants vocal style, but also for introducing the leather-and-studs look into rock music. They have sold over 50 million albums worldwide, including 1980's British Steel, which essentially defined heavy metal as a genre. The Grammy-winning band has influenced countless other groups and even has its music featured on leading video games.
Enjoy and learn more from Silvio Gazquez and all the teachers at Guitarcontrol.com in the free guitar lessons in many styles at http://www.youtube.com/guitarcontrol.
GuitarControl.com, a leader in video music education, is the brainchild of Philadelphia guitarist Claude Johnson. Since 2004, it has offered online lessons and DVDs taught by virtuosos in styles ranging from rock, metal and blues to jazz, bluegrass, country and fingerstyle; as well as courses for vocals, drums, bass and keyboard; and music software, song collections and jam tracks.