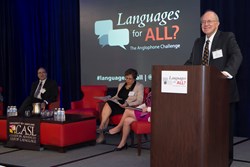 Is it time to make language instruction accessible to anyone who wants it? It's not just about national security and economic competitiveness – it's about world class population as a nation.
College Park, MD (PRWEB) October 03, 2013
On Monday, September 30th, American Councils for International Education President Dr. Dan E. Davidson joined language leaders from government, industry, nonprofits, and the broader field of education to examine the feasibility of eradicating barriers to foreign language education in the U.S., and in other English-speaking countries. The group asked directly: Is the English language enough for our children? And if not, why?
Before an audience of over 150 industry professionals and educators, many of whom have dedicated their lives to language education, six groups of panelists debated challenging topics in language education and policy as they questioned the role of K-12 systems, higher education institutions, government, and private industry to make language education universally available. Participants ranged in experience type and background, from the high school French teacher from the state of Maryland to Clay Pell of the U.S. Department of Education to Dr. David S.C. Chu, president of the Institute for Defense Analyses.
"There is a growing body of evidence that shows that U.S. higher education programs can adapt the way they teach languages and culture for the needs of an increasingly diverse student population, only a very small percentage of which is focused on going on to study that language in graduate school," said Dr. Dan E. Davidson, president of American Councils. "In the context of economic globalization, language and cultural proficiency—typically at the advanced or professional level—are increasingly important for students across many fields and professional aspirations. Those students who have had the opportunity to study a second or third language in K-12 are at an advantage in today's environment."
Entitled Languages for All? The Anglophone Challenge, the forum was convened by the University of Maryland Center for Advanced Study of Language (CASL) and co-sponsored by the American Council on the Teaching of Foreign Languages (ACTFL), American Councils for International Education, British Academy for the Humanities and Social Sciences, Defense Language Institute Foundation, Globalization and Localization Association (GALA), and Joint National Committee on Languages – National Council for Language and International Studies (JNCL-NCLIS). National Security Agency Director of Research Michael Wertheimer, University of Maryland President Wallace Loh, Vice President and Chief Research Officer Patrick O'Shea, and University of Maryland Director of Language Initiatives Richard D. Brecht gave opening remarks.
The panels were led by renown experts in the field from the British and Australian academies, Fortune 500 companies, the Department of Education, Department of Defense, and school boards, along with researchers, school administrators, foreign language practitioners, policymakers, and a former governor. Panel topics were selected to engage participants in a provocative debate on why foreign language instruction should be a priority in our country and in others. Speakers encouraged participants to challenge hypotheses and historical perceptions.
Founder of CASL and Chairman of the Board of Trustees for American Councils for International Education Dr. Richard D. Brecht challenged his peers: "Is it time to make language instruction accessible to anyone who wants it? It's not just about national security and economic competitiveness – it's about world class population as a nation."
Dr. Brecht went on to describe the language field's ultimate dilemma: that studies and influencers continue to tout the need for language, but the will must be paired with resources and "action" to make foreign language acquisition an essential part of our children's education. CASL will distribute a white paper this fall with recommendations on a defined plan of action and key messaging points in order to help facilitate a more united front on language education that can resonate with the public and elected officials.
About American Councils
American Councils for International Education is a premier, international nonprofit creating educational opportunities that prepare individuals and institutions to succeed in an interconnected and increasingly interdependent world. Through academic exchanges, overseas language immersion, and educational development programs, American Councils designs and administers innovative programs that broaden individual perspectives, increase knowledge, and deepen understanding. After being immersed in other countries and cultures, our participants become culturally aware citizens of the world, contributing to mutual understanding and successful international collaboration.
About CASL
CASL conducts unprecedented, academically rigorous research in language and cognition that supports national security. CASL research is interdisciplinary and collaborative, bringing together people from the government, academia, and the private sector. CASL research is both strategic and tactical. It aims to advance our knowledge of language in ways that directly serve the critical needs of the nation. CASL is fortunate to be supported by the interdisciplinary research on UMD's campus conducted under the auspices of its new Language Science Center.
About the University of Maryland
The University of Maryland is the state's flagship university and one of the nation's preeminent public research universities. A global leader in research, entrepreneurship and innovation, Maryland is ranked No. 21 among public universities by U.S. News & World Report and No. 14 among public universities by Forbes. The Institute of Higher Education, which ranks the world's top universities based on research, puts Maryland at No. 38 in the world, No. 29 nationally and No. 13 among U.S. public research institutions. The university is also one of the top 10 highest-rated D.C.-area employers, according to Glassdoor.com. Its faculty includes three Nobel laureates, two Pulitzer Prize winners, 49 members of the national academies and scores of Fulbright scholars. The university is recognized for its diversity, with underrepresented students comprising one-third of the student population.