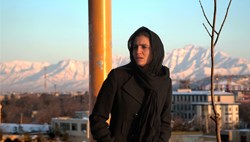 Engrossing! Heartfelt, in a naturalistic manner.
New York, NY (PRWEB) October 02, 2013
Film Movement (http://www.filmmovement.com), the North American film distribution company that brings first-run, award-winning independent and foreign films to fans all across the U.S. and Canada, announced today their acquisition of An Afghan Love Story (aka Wajma). The sophomore feature from director Barmak Akram (Kabuli Kid), received the Screenwriting Award at the 2013 Sundance Film Festival in January. The story of a brief love affair that results in an unexpected pregnancy in a society where both are more than frowned upon, An Afghan Love Story is Afghanistan's official submission to the 86th Academy Awards for the Foreign Language Film category.
The film tells the story of gregarious waiter Mustafa, and the pretty student named Wajma whom he charms. The pair begins a clandestine relationship – they're playful and passionate but ever mindful of the Kabul society rules they are breaking. After Wajma discovers she is pregnant, her certainty that Mustafa will marry her falters, and word of their dalliance gets out. Her father must decide between his culturally held right to uphold family honor and his devotion to his daughter.
The acquisition of An Afghan Love Story was negotiated by Film Movement's President, Adley Gartenstein, and Daniela Elstner, Managing Director at Doc & Film International.
"We are always in search of unique global stories to share with North American audiences," said Adley Gartenstein, president of Film Movement, "and Barmak Akram's impactful film lets us peek into a culture that most of us in this continent have had no contact with, while also telling a universal love story that we can all identify with."
Acclaim for An Afghan Love Story:
"Engrossing! Heartfelt, in a naturalistic manner." –Alissa Simon, Variety
"The cast shines! [A] culturally relevant film." –Cody Kirkland, Slug Magazine
###
About FILM MOVEMENT: Launched in 2003, Film Movement is a full-service North American distributor of award-winning independent and foreign films, based in New York City. Film Movement has released more than 250 feature films and shorts from 50 countries on six continents, including top prize winners from Sundance, Cannes, Venice, Toronto, Berlin, Tribeca and other prestigious festivals. Film Movement releases its films through numerous distribution channels, including thousands of art-house cinemas, universities and libraries; home video (Blockbuster, Netflix and Amazon); television outlets (Sundance Channel, HBO, IFC and Showtime); Cable Video on Demand (including its very own branded cable VOD platform—Film Festival on Demand—available in over 50 million US homes); In-flight Entertainment (Continental and Alaska Airlines) and broadband outlets (iTunes, Hulu, YouTube and Amazon). For more information, please visit http://www.filmmovement.com.