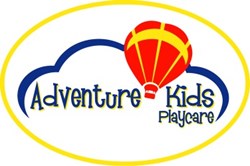 'We are excited to implement Hireology and see the successful hiring that results.' -- Dana Oliver, CEO, Adventure Kids Playcare
Chicago, IL (PRWEB) October 04, 2013
Hireology, the leading recruitment platform for franchises, announced recently that Adventure Kids Playcare has implemented their award-winning platform to increase their hiring success.
"Selecting and verifying employees for the child-care industry is crucial," said Kevin Baumgart, Director of Business Development. "Hireology is pleased to offer Adventure Kid Playcare the right tools to make the best hires for their franchise locations."
The fast-growing Adventure Kids Playcare is in the process of expanding from its current twelve locations. The unique drop-in child care and entertainment center will use Hireology as a tool to help organize the hiring process across all franchise locations. All Adventure Kids Playcare franchisees will have access to Hireology's suite of selection tools, including background checks, skills tests, behavioral assessments, and personality profiles.
"The success of the Adventure Kids Playcare franchise has led to the need for trained and responsible staff," said Adventure Kids Playcare CEO, Dana Oliver. "We are excited to implement Hireology and see the successful hiring that results."
Adventure Kids Playcare will begin the implementation of Hireology's platform later this month. For more information on how Hireology helps franchises hire, please go to http://www.hireology.com.
About Hireology
Hireology is the leading selection management platform for distributed enterprises. Their award-winning Selection Manager™ includes everything an operator needs to manage their hiring process, including a fully hosted career site, integrated job postings, compensation analysis, pre-hire assessments, interview guides, background checks, skills verification and more. Franchise systems, banks and financial institutions, healthcare systems, dealer networks, and other multi-site operators use Hireology's web-based platform to deliver consistent and repeatable hiring decisions in the field - leading to lower turnover and increased profitability per location. For more information, please visit http://www.Hireology.com/.
About Adventure Kids Playcare
Adventure Kids Playcare is a unique, drop-in childcare facility. We provide flexible, hourly childcare services. Adventure Kids Playcare fills the need for flexible, hourly childcare that is necessary as families become busier.