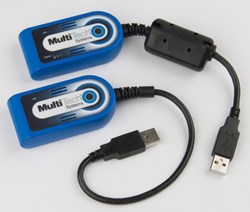 "The real question now is if a company can really afford a free cellular USB modem." - Don Miller, Senior Product Manager, Multi-Tech Systems
(PRWEB) October 03, 2013
Multi-Tech Systems announces the QuickCarrier™ USB-D, the first cellular USB dongle specifically designed and built for M2M (machine-to-machine) communications applications. In stark contrast to consumer-type cellular dongles that can provide unreliable connectivity and often require frequent design or software changes, the carrier-approved QuickCarrier USB-D modem delivers stability and reliability, yet meets the need for quick deployments.
Many companies in the midst of deciding how to enable a connected product start with what they know as a consumer. Dongle-type modems are chosen because they are easy to integrate and are often given to companies at no charge as an incentive to activate a solution on a cellular network. These dongles are not meant for use in M2M applications.
"Low-cost or even no-cost dongles don't really reflect the true costs of this type of solution for M2M," said Don Miller, Senior Product Manager, Multi-Tech Systems. "There's a constant need to drive down costs and adapt technologies for the consumer market, which initiates redesigns and other changes. And that's fine for consumers who are buying and using one device. But when companies are deploying hundreds of devices over time, things like a driver update can be problematic, causing service calls or re-work. The QuickCarrier USB-D fills a huge gap in the market; our customers and partners are extremely excited about this."
Truly, a cellular dongle designed for M2M use, the QuickCarrier USB-D is rugged, built for long life, delivers reliable data connectivity and allows customers to easily connect their devices to the internet. The QuickCarrier USB-D offers 3G HSPA+ and EV-DO cellular technologies, an internal antenna, short message service (SMS), drivers for both Windows and Linux, AT command compatibility and pre-certification by major regulatory agencies. The AT&T and Verizon approved models will be available first; Aeris and Sprint models will be available in early 2014.
"The real question now is if a company can really afford a free cellular USB modem," adds Miller.
Those interested in learning more can visit the Multi-Tech website or view the product spotlight video.
About Multi-Tech Systems
Multi-Tech Systems has been delivering industry-leading M2M (machine-to-machine) communications solutions since 1970. With more than 22 million devices deployed worldwide, Multi-Tech focuses on helping customers achieve the shortest path to M2M connectivity – from concept to implementation and total lifecycle management. Whether a project is simple or very complex, Multi-Tech has the resources and expertise to work with any development team to customize a hardware or software solution that maximizes speed to market and return on investment. With carrier-approved external and embedded modems and gateways, Multi-Tech makes it easy and fast to connect your devices to networks anywhere in the world. We work with clients in almost any market to enable cellular, analog, Wi-Fi®, Bluetooth® and GPS capabilities into a solution to achieve superior business results. If we don't have it, we will develop it. Multi-Tech established its reputation for Innovative Designs and Innovative Solutions by obtaining 80+ patents and certifications from more than 30 carriers and over 80 countries. Multi-Tech has made M2M Simplified for thousands of customers around the globe. http://www.multitech.com. Twitter: http://www.twitter.com/MultiTechSys.