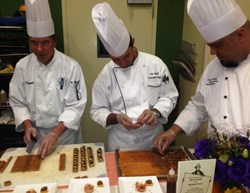 Each year's food is better than the last with stunning gourmet selections
Evanston, IL (PRWEB) October 06, 2013
A medley of local chefs partnered with producers from Evanston's Farmers Market to delight 130 guests at the annual Harvest Celebration, held at Now We're Cookin, the culinary Center in Evanston, IL.
Among the dishes created from seasonal produce were: Fingerling Potato Pierogi, Squash & Saffron Soup, and Pickled Pear & Black Pepper Flan. Locally baked Breads from Hewn Bakery and Crust & Crumb, plus Evanston-roasted Coffee by the Coffee Speed Shop, complemented the 12 fabulous dishes presented by the Chefs. Nancy Burhop - board member of Friends of Evanston Farmers Markets, the beneficiaries of the event - thanked all the participants, saying "we couldn't accomplish our goals without the generosity of the Sponsors or the dedication of the farmers and chefs."
Now We're Cookin' owner Nell Funk congratulated the chefs and farmers on another stellar year of gourmet offerings, "The creativity of the evening's dishes flowing from the partnership of these two talented parties has been truly inspirational".
Although this annual event is the highlight of the Fall season, Now We're Cookin's kitchens and event space host a variety of fund raising events for local not-for-profit organizations throughout the year, as well as promotional and training events for regional businesses. The warm, welcoming environment coupled with the space's flexibility draws a wide variety of groups looking to celebrate their services and expand their reach.
At the Harvest Celebration, the enthusiasm of the guests reflected the connection that such an intimate space can create. Conversations with and between chefs, interaction with farm representatives, and the gathering of community members in support of a wonderful community institution all contrived to create a stellar evening - exceeding the hosts expectations. Well done all!
About Friends of Evanston Farmers Markets - beneficiaries of the Harvest Celebration: Friends of Evanston Markets, Activities include educational activities related to nutrition, marketing and promotional activities, as well management of matching fund support for the LINK program, enabling low income families to purchase food at the Evanston Markets.
About Now We're Cookin': http://www.nwcookin.com
Now We're Cookin' is the premier culinary center for Chicago and the North Shore suburbs, promoting culinary education and entrepreneurship. Specializing in interactive cooking classes and corporate / private events, their professional demonstration studio provides a warm and fun environment for people to learn, promote and celebrate the culinary arts. In addition, Now We're Cookin' supports culinary entrepreneurship by operating a food business incubator in its state-of-the-art commercial kitchens. Great small food businesses thrive in the collaborative environment with assistance from the experienced staff. Over 40% of the non-farmers purveyors at the Evanston Farmers Market produce at Now We're Cookin'.