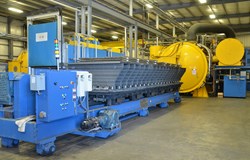 Hermitage, PA (PRWEB) October 03, 2013
Solar Atmospheres of Western PA (SAWPA) has extended the hot zone load dimensions in their largest commercial vacuum furnace from 60-inches-wide to 80 inches-wide. When faced with the possibility of processing catalyst retention screens that were 80-inch-wide, Solar needed to take advantage of the 84-inch-wide potential in the furnace.
Working together with their sister company Solar Manufacturing, they were able to accomplish their goal by designing taller graphite load rails to fully support the 80-inch-wide load. "This new tooling gives us a significant opportunity to gain new customers while offering additional furnace capabilities to our existing customers" says Michael Johnson, Sales Manager for Solar Atmospheres of Western PA. "Due to the versatility and stability of our car bottom design, we have always realized an advantage over our competition, but now we can utilize the maximum width-capacity of the furnace safely and efficiently."
About Solar Atmospheres of Western PA
Vacuum heat treating and brazing services provided by Solar Atmospheres produce bright, scale-free parts with minimal distortion. The Hermitage Pennsylvania plant 60 miles North of Pittsburgh specializes in vacuum thermal processing of large, mainly titanium manufacturing parts. This facility houses the world's largest commercial vacuum furnace (80" wide x 60" high x 432" long work zone - 150,000 lb. workload capacity) which uniquely benefits the aerospace industry. With a variety of furnaces processing smaller parts, Solar Atmospheres serves 18 different industries. State-of-the-art services also include carburizing, nitriding and R&D. Additional plants are located in Fontana California and Souderton Pennsylvania.