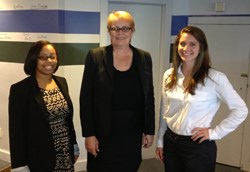 I am excited to join a firm with such a strong commitment to excellence and dedication to its clients."
Huntington, NY (PRWEB) October 04, 2013
The Schlitt Law Firm has announced the hiring of Ashlyn Angell and Laurielle Howe as personal injury Legal Analysts. In this capacity, Ms. Angell and Ms. Howe will each help the firm develop, analyze, and prosecute personal injury and medical malpractice cases. Carol L. Schlitt, the founding partner of the Schlitt Law Firm, said, "We are very happy to have Ashlyn and Laurielle join our firm and become a part of our team. They are bright and creative young women who are hungry to learn and will each make a valuable contribution to the work we do for our clients."
Ms. Angell said, "I am excited to join a firm with such a strong commitment to excellence and dedication to its clients."
Prior to joining the Schlitt Law Firm, Ms. Angell worked at Reardon, Joyce and Akerson in Worcester, Massachusetts and worked for the North Carolina Republican Party. Ms. Angell graduated from Holy Cross in 2013. The North Carolina native recently relocated to Kings Park, New York.
Ms. Howe said, "This position will enable me to put my education into action doing interesting, meaningful work."
Prior to joining the Schlitt Law Firm, Ms. Howe worked at The Hoffinger Firm, LLP in Manhattan and the Northeast New Jersey Legal Services in Hackensack, New Jersey. Ms. Howe graduated from Amherst College in 2013. The Valley Cottage, New York native recently relocated to Dix Hills, New York.
Carol L. Schlitt explains the role and how the two new hires will fit with the organization. "Our legal analysts contribute to all aspects of case development: from screening potential cases to development, settlement and prosecution at trial. Ashlyn and Laurielle will work closely with other members of our team to analyze and develop our cases, prepare legal documents and correspondence, and, most importantly, help deliver remarkable service to our clients."
The Schlitt Law Firm conducted a national search to fill these positions. The firm posted the job opening with numerous top-tier colleges and universities throughout the country, and received over 200 submissions from a pool of applicants that contained a surplus of qualified and promising candidates. "We experienced an embarrassment of riches during the application phase, and after a rigorous review and interview process, Ashlyn and Laurielle stood out as outstanding candidates," says Ms. Schlitt.
The Schlitt Law Firm is a leading plaintiff-only personal injury and medical malpractice firm serving the New York metropolitan area. The firm emphasizes client services and is built on the values of communication, education and responsiveness. The firm has an office at 79 Wall Street in Huntington Village and operations in the Bronx. The Schlitt Law Firm publishes one of New York's leading legal blogs, New York Law Thoughts.