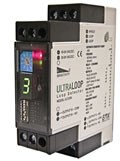 The detect on stop function, invented by EMX, is going to transition the industry in to a much higher level.
Cleveland, Ohio (PRWEB) October 22, 2013
EMX Industries Inc. Cleveland Ohio, a world-class manufacturer of sensors for industrial automation and access control, introduces the new ULTRALOOP – ULT-DIN vehicle loop detector featuring EMX exclusive Detect on Stop (DOS). The ULT-DIN is the only inductive vehicle loop detector on the world wide market capable of differentiating between moving and stopped vehicles.
Like previous versions of the company's vehicle loop detectors, the new model features small size (it snaps onto a DIN rail), low power draw, the ULTRAMETER sensitivity display, and automatic sensitivity boost. But it adds a feature exclusive to EMX: Detect on Stop (DOS). The DOS output triggers only when a vehicle stops for at least one second over the loop, and ignores those that keep going. The unit's regular output indicates both moving and stationary vehicles.
Why Detect On Stop is Important
There are many cases where simply detecting that a vehicle is present is not enough. Examples include parking lot exit gates, which should open only when a car is ready to leave, and not when one simply drives past the exit gate; fast food restaurants, where a car driving through the take-out line should not be counted as a customer waiting in line; and commercial and industrial overhead doors, which should not open whenever a forklift or automatic guided vehicle passes by. The DOS feature solves these problems.
Price and Availability
The ULT-DIN vehicle loop detectors are in stock and retail under $150.00.
For more information:
To request a datasheet on the ULTRALOOP ULT-DIN vehicle loop detector with DOS, or any of the EMX vehicle detection products, call EMX at 800-426-9912, send an email to salessupport(at)emxinc(dot)com, or visit the EMX Web site at http://www.emxinc.com.
About EMX Industries, INC.
EMX Industries Inc. designs and manufactures industrial sensors and access controls for a variety of industries and applications. Established in 1987 and located in Cleveland, Ohio, EMX is a global leader for access control products for the security, fence and gate, door operating and parking markets, as well as factory and process automation sensors for automotive, packaging and labeling, metal stamping, paper and wood processing, plastics, electronics and pharmaceutical manufacturing. EMX is ISO 9001 certified. More information on their high quality products can be found at http://www.emxinc.com or by calling the team directly at 216.518.9888.