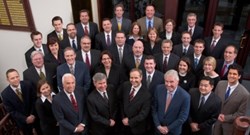 Kreis Enderle is truly a "full-service" law firm
(PRWEB) October 03, 2013
The law firm of Kreis, Enderle, Hudgins, & Borsos P.C. announces it has opened a new office in downtown St. Joseph, Michigan, located at 800 Port St., St. Joseph, Michigan 49085.
Kreis Enderle has 32 attorneys and has been providing legal services throughout West Michigan for more than 35 years. The St. Joseph, MI office is the latest expansion serving West Michigan with current locations in Kalamazoo, Battle Creek & Grand Rapids.
Local business and estate attorney, Brian McMahon, has joined the firm and will be helping Kreis Enderle establish its St. Joseph office. In addition to Attorney McMahon, Kreis Enderle is currently in the process of recruiting additional attorneys to work out of its St. Joseph, Michigan office and expects to have between 6-8 attorneys in its St. Joseph, Michigan office in the next 3 to 5 years.
The new St. Joseph, Michigan office will give individuals and businesses in Southwest Michigan that are not currently clients of the firm, access to a full-service law firm. It will also allow Kreis Enderle to better serve its current clients located in Southwest Michigan. At Kreis Enderle, attorneys give a fresh perspective and a positive approach to the practice of law by forming a close relationship with each of its clients and maintaining a genuine interest in helping improve those clients' situations.
Attorneys at Kreis Enderle are dedicated to the communities, and make a point of contributing their time to numerous civic and business organizations in those communities. Attorney McMahon already fills that role in Berrien County, and Kreis Enderle looks forward to the opportunities to support other civic and business organizations that can have a positive impact on the lives of all those who live in the St Joseph, Michigan area.
Kreis Enderle is truly a "full-service" law firm with attorneys that specialize in Business Law, Residential & Commercial Real Estate, Estate & Elder Law, Family Law, Criminal Law, Health Law, Municipal Law, Banking & Credit Union Law, Agricultural Law and other areas of law as well.
The respected Michigan law firm has a winning team of experienced lawyers who can help you find the solution you need. Contact the law firm of Kreis, Enderle, Hudgins & Borsos P.C.