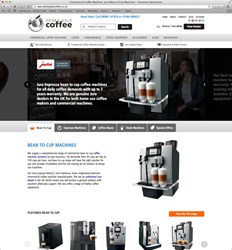 Within days of us handing over the content management system, we received compliments as to how the structure of our cms just 'makes sense'.
Huddersfield, West Yorkshire (PRWEB UK) 3 October 2013
Denby Dale Coffee Ltd is a family run business based in the Yorkshire Pennines, it was founded in 2002 by coffee enthusiast Steve Roy. Having spent the past 15 years dedicated to coffee, working for some of the biggest coffee brands in the world, Steve decided to pass along his knowledge and expertise to his own customers, creating a personal experience - Denby Dale Coffee was born.
The previous website had served the Huddersfield based business well, but the time had come to take the online aspect of the business to new levels. To this avail, Chameleon were approached by company director Steve Roy and asked to provide a detailed demonstration of the Chameleon eCommerce platform. Chameleon were successful in their pitch which was up against three established Leeds based web design agencies.
The new ecommerce website for Denby Dale Coffee is built upon Chameleon's very own enterprise level ecommerce platform. It is complete with a wealth of features suitable for any serious online retailer. The powerful yet easy to use content management system makes website maintenance a breeze. "Our client now has far more control over site content than the previous platform they were using, within days of us handing over the content management system, we received compliments as to how the structure of our cms just 'makes sense' and how clear it was that the search engine optimization capability for categories and products went far beyond that of their old off-the-shelf platform" commented web developer James Noon.
Most of the front end content is managed by the powerful Chameleon content management system. The site features a hierarchy category structure complete with a simple drag and drop positioning interface. Any number of parent/child categories can be created, configured and highly optimized for search engines. Products are easily created and assigned to categories, complete with multiple images, video features, multi buy discounts, cross selling, up-selling and product bundles. Every individual product can also be highly optimized for search engines. Feature banners, discount vouchers, delivery rates, loyalty points, vat settings and so much more are managed with ease via the cms. Products are also integrated into Google Merchant, an xml feed provides all the latest product data, structured for use in Google product listing adverts.
The home page of the website allows the client to feature categories and products, alongside featured blog articles and banners, again, all managed easily via the cms. "A great feature of our platform is how we've integrated the Wordpress blog platform into specific areas of our eCommerce platform, such as on the Denby Dale home and category pages. Our cms allows the client to link blog categories to the actual eCommerce categories, featured articles from the blog are then fed into the main site itself, this is great for SEO and user experience." added James.
The new website has been designed and built to be not only highly effective in eCommerce functionality and conversions, but to give site visitors confidence in the Denby Dale Coffee brand. This is reinforced by a professional image, knowledge based articles, genuine customer reviews powered by eKomi, customer testimonials, customer loyalty points, Norton Secure Site SSL, all alongside well written website content. Just a few of the core elements for any successful online retailer.
Chameleon Digital Media are a growing force in the eCommerce platform arena. Established in 1998 as a graphic and web design agency, over the past several years Chameleon have invested heavily in the development of their own eCommerce platform. This platform is used by scores of online retailers throughout the UK. Chameleon are midway through the development of their all new responsive ecommerce platform, code named 'Voracio' which makes use of the best in responsive web design techniques. It is set to be one of the first fully responsive ecommerce platforms available in the UK, taking a one platform for all devices approach.
The Huddersfield based business are a full service digital agency, offering ecommerce, CRM integration, web design, online marketing, SEO, PPC and branding. Their success has been attributed to having the right mix of creativity and technical expertise alongside a friendly and personal service.
Chameleon Digital Media
1 St Pauls House
Brooke's Mill
Armitage Bridge
Huddersfield
West Yorkshire
HD4 7BG
+44 (0)1484 304545
james(at)chameleon-web(dot)co(dot)uk