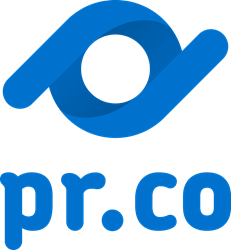 New York, NY (PRWEB) October 03, 2013
Handling PR is a time-consuming job and nowadays requires a fair amount of technical (web) skills. From creating a company news page, writing news releases and managing and contacting the press, to measuring the results.
Today pr.co introduces a PR toolkit that helps companies and PR firms to create, manage, distribute and measure news online. What Salesforce.com did for streamlining and managing sales, pr.co will do for PR. Making PR professionals independent from any webmaster, designer, technical department or developer. Included in the toolkit are the following tools to make PR more efficient and accessible:

Company press room, where all company related news (press releases, press kit, pr contacts, social media and company coverage) comes together in one single page.
Easy creation of stunning press releases, optimized for social media and search. Press releases can include video, sound, images and a variety of other files.
CRM for media contacts that can be shared with colleagues. These contacts can be used to distribute press release in a MailChimp like style.
Detailed reports on the results of a press release in terms of visitors, shares on social media, open and click rates of the email campaign. Allowing companies to gain better insights and improve their PR.
Clippings, allowing companies to collect exposure they earned online. Each clipping has detailed social statistics and a screenshot. Creating clippings is easy using a bookmarklet or a browser extension in the near future.
The toolkit can be used by anyone who is responsible for communications and PR, but also offers collaboration options for PR agencies big and small. It helps PR people focus on the content and not worry about the technical details.
Pr.co is launching today during the The Next Web Conference in New York. Users can sign up now and it offers a free 14-day trial for all new users. The service has a subscription-based revenue model with plans starting at only $30 a month.