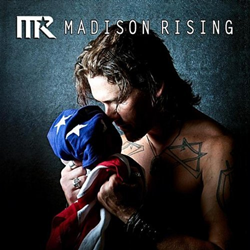 This is exactly the kind of music this country needs right now.
(PRWEB) October 02, 2013
Madison Rising, America's most patriotic rock band, is proud to announce the release of their second album – American Hero – dedicated to the men and women of our armed forces, along with the police, firefighters and other first responders whose sacrifice and selfless dedication to the service of this country, at home and abroad, help this great nation to remain the land of the free and the home of the brave. The album is scheduled for release on Tuesday November 5, 2013. The video for the new single – Ready If It Goes There – filmed entirely on iPhone 5, is available as of today on YouTube at: http://youtu.be/5zrYi2JtRaQ.
Since the release of their first album in late 2011, the band has worked tirelessly to create an entirely new genre of music – patriotic rock. Combining a brilliant classic/modern rock sound, with relevant and meaningful subject matter including inspirational tributes to our men and women in uniform, anthems that honor our great nation, and the band's best-selling rock rendition of "The Star Spangled Banner," it is clear that this band is on a mission to not only make great music, but to also send a message that American culture is alive and well.
"Unlike most popular music these days that focuses on negativity, anti-American sentiment or hedonistic desires, Madison Rising goes the extra mile to craft songs with positive messages; songs that are actually about something – about soldiers, about sacrifice, about freedom, liberty, gratitude, and living the American dream," said Richard Mgrdechian, manager of Madison Rising. "This is exactly the kind of music this country needs right now, and I'm incredibly proud of this album and all the work the guys have put into it."
The album will consist of 10 tracks, anchored by the band's best selling rendition of The Star Spangled Banner, and closing with a new, but equally powerful rock rendition of America The Beautiful. Some themes for the eight other original tracks on album include: PTSD (Post Traumatic Stress Disorder, the most critical issue the military faces at the moment); Open Road – a powerful song about freedom, liberty, and controlling your own destiny; Something Wicked – an ominous warning about the decay of our society; and Lock 'N Load – a powerful anthem dedicated to our Navy SEALS.
Regarding the PTSD track, Madison Rising lead singer Dave Bray, himself a military veteran and former 8404 FMF Corpsman for 2nd battalion 2nd Marines, had this to say: "Over the past five years, more of our soldiers have died as a result of suicide than in actual combat, and the suicide rate among veterans is twice that of the civilian population. This is unacceptable. We're trying to use our music to increase awareness and help find ways to combat this tragedy. That's why I wrote the song, and we're really hoping it can help make a difference."
Madison Rising's album launch is coming off the heels of a busy summer schedule which included opening for Lynyrd Skynryd at the 73rd Annual Motorcycle Rally at Sturgis this past summer, headlining the military appreciation concert at the North Texas State Fair, opening for rock legends Kansas in Toledo, performing a halftime show for 50,000 people at Qualcomm Stadium in San Diego for a Chargers game and a host of others.
Madison Rising is on a mission to reignite authentic American culture through great rock music. The band promotes the principles of liberty, independence, smaller government and personal responsibility. Madison Rising: Music with meaning.