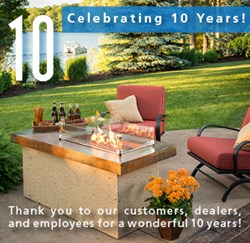 We had some key people who were willing to take a hard look at things and then put in the effort to make them happen.
Minneapolis, MN (PRWEB) October 03, 2013
The Outdoor GreatRoom Company™ is celebrating their 10th Anniversary of outdoor living this year. OGC started as an idea many years ago and is now flourishing as a business. After ten years of hard work and countless challenges, this year has been one of growth and success.
It would be difficult to find a more challenging time frame to start a business than Outdoor GreatRoom Company™ did. The "Great Recession" of 2009 hit OGC hard. It was apparent that the company could no longer continue doing the same thing and expect different results.
"While OGC was almost taken out of business, we managed to put in place some key programs for sourcing, manufacturing in the U.S., and strategic product direction, which all contributed to our growth today. We had some key people who were willing to take a hard look at things and then put in the effort to make them happen," said Dan Shimek, Founder and President of Outdoor GreatRoom Company™.
Outdoor GreatRoom Company™ continues to focus on high-quality products such as stainless steel Crystal Fire™ gas burners, UL listing on all products, and increased category growth. These changes have resulted in back to back years with 25%+ growth and a profitable bottom line.
Outdoor GreatRoom Company™ thanks all of those involved in the company's success: employees, customers, suppliers, and dealers. OGC is enthusiastic about the future and confident they can help customers enjoy a nice level of growth in our product categories. OGC products are a great opportunity to grow business in a new market and fire up sales.
"Let's work together and make it happen!" -- Dan Shimek
ABOUT THE OUTDOOR GREATROOM COMPANY
Founded by industry veteran Dan Shimek, co-founder of Heat-N-Glo Fireplaces, The Outdoor GreatRoom® Company (OGC) manufactures unique, upscale products with design appeal for indoor and outdoor living spaces. Products include grills (gas and electric), outdoor kitchen islands, indoor/outdoor fireplaces (gas, electric, gel), outdoor fire pits and fire pit tables, outdoor patio furniture, pergolas, and accessories. Visit http://www.outdoorrooms.com for more information.