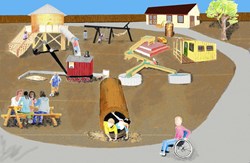 We hope that this new playground will serve as a model for others to become more aware and more willing to adopt design principles that address the interest and needs of people, especially children, of all abilities
Dearborn, MI (PRWEB) October 02, 2013
On Saturday, Oct. 5, The Henry Ford, along with donors Don and Mary Kosch, will officially open the new Donald F. Kosch Village Playground inside Greenfield Village at 10 a.m. during a special ribbon-cutting ceremony. Located adjacent to the carousel, the new historically-themed playground is a place where children of all abilities can learn and play within the same environment.
This new addition to Greenfield Village encompasses approximately 25,000-square-feet and was designed with the intent that children of all abilities could learn and play within the same environment. The site includes multi-level topography with ramp accessibility, bonded and concrete rubber surfaces that are ADA accessible and elements constructed out of natural or authentic materials keeping with the overall aesthetic of Greenfield Village.
"We hope that this new playground will serve as a model for others to become more aware and more willing to adopt design principles that address the interest and needs of people, especially children, of all abilities," said Patricia Mooradian, president of The Henry Ford. "Creating immersive spaces where children can learn by doing and be inspired by their surroundings is something that our founder Henry Ford believed in and something that is still very important to us to this day."
Designed to resemble a 1930s construction site, the playground includes an interactive steam shovel where children can play with the levers inside or dig in the sand located at the bottom of the steam shovel's bucket. The fenced-in site also includes a rock climbing wall, a water tower, swings, an interactive boiler feature, a cement mixer and two actual artifacts – a boardable 1931 Ford Model AA truck and a 20-foot-long boiler tunnel that originally sat near the Armington and Sims Machine Shop inside Greenfield Village.
The playground will be open daily, April through October, from 9:30 am – 5:00 pm and is intended for children 10 and younger with adult supervision.
About The Henry Ford
The Henry Ford in Dearborn, Michigan is an internationally-recognized cultural destination that brings the past forward by immersing visitors in the stories of ingenuity, resourcefulness and innovation that helped shape America. A national historic landmark with an unparalleled collection of artifacts from 300 years of American history, The Henry Ford is a force for sparking curiosity and inspiring tomorrow's innovators. Nearly two million visitors annually experience its five attractions: Henry Ford Museum, Greenfield Village, The Ford Rouge Factory Tour, The Benson Ford Research Center and The Henry Ford IMAX Theatre. A continually expanding array of content available online provides anytime, anywhere access. The Henry Ford is also home to Henry Ford Academy, a public charter high school which educates 485 students a year on the institution's campus. For more information please visit our website thehenryford.org.