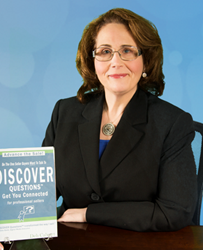 Now You Can Be the ONE Seller Buyers WANT to Talk to! With DISCOVER Questions™, You'll Learn How to Make Every Sales Call Count
San Jose, CA (PRWEB) October 03, 2013
People First Productivity Solutions, a San Francisco Bay Area sales training and consulting company, is overjoyed to have author Deb Calvert's new book, DISCOVER Questions™ Get You Connected listed as Top Sales World's Featured Book of the week. Top Sales World is the premier website destination that inspires the global sales community and draws the industry's best-known sales experts who provide unparalleled information to the sales community.
Thought leaders in the sales community are endorsing and recommending DISCOVER Questions™, and the designation of Featured Book on Top Sales World is an honor. Calvert has reached an extensive audience and is receiving praise and accolades from both new and seasoned sales professionals. The book promises to make you the one seller buyers want to talk to.
Books can be ordered on either amazon.com or the People First Productivity Solutions website. Direct contact can be made for bulk orders for your sales team by calling (408) 779-7377 or via email deb(dot)calvert(at)peoplefirstps(dot)com. Contact People First Productivity Solutions for information about training and keynote speaking on the topic of using questions to advance the sale.