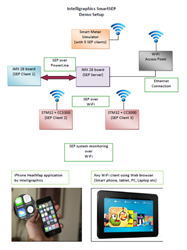 "Intelligraphics engineering team has a 20 year history of innovation. SmartSEP 2.0 was designed to help our customers deliver tomorrow's Smart Energy solutions today for Home and Industry." Said CEO Scott Lawson
Richardson, TX (PRWEB) October 09, 2013
Smart-Energy Profile 2.0 created a standard that connects smart energy devices in the home businesses and industry to the Smart Grid.The Intelligraphics IGX SmartSep 2.0 Library was designed to complement the capabilities of industry leading Wi-Fi® chipsets which use energy-saving 802.11n technology to enable long range transmissions with the lowest possible power consumption. Intelligraphics IGX SmartSEP 2.0 is a complete library encapsulating all SEP 2.0 information into an easy to use format. It reduces development time and QA cycles and associated costs, enhances product reliability and accelerates the deployment of smart-appliances.
The IGX SmartSEP 2.0 Library provides:

A complete abstraction layer of SEP 2.0
Well-defined API interface
Lightweight architecture
Highly customizable and configurable codebase
SEP support over Wi-Fi, Ethernet or Powerline Communications (PLC)
Platform independent solution
Intelligent applications using the SEP API library support for smart meter simulator with real-time metering and smart grid information
Implementation of portable apps which are MAC and PHY agnostic
SEP 2.0 Library Supported Function Sets supported by IGX:

Device Information
Metering
Pricing
Time
Log Events
Demand Response and Load Control
Messaging
Drop by Intelligraphics table at RTECC San Diego or RTECC Orange County and discuss how our engineering team can enhance your product offerings. If your offices are in the Southern California area, a visit from us might be beneficial during the days before or after the expo. We are happy to accommodate any schedule for a personal meeting. RTECC is a highly focused technical conference that consists of keynote presentations, breakout seminars, workshops, and vendor exhibitions. It is for software and hardware engineers and managers developing computing systems for a variety of industries, such as: military and aerospace, industrial control, embedded appliances, telephony and data communication, process control, image processing, medical instrumentation, vehicular maintenance and control, consumer devices and more.
Recognized as an industry leader for over 20 years, Intelligraphics' Engineering Team provides a variety of expert hardware development, driver and firmware development and system integration services to a worldwide customer base. Intelligraphics offers comprehensive operating system support from leading high-level operating systems like Linux®, Windows® Embedded Compact and CE, Android, and real-time operating systems like DSP/BIOS kernel, SYS/BIOS, Integrity®, QNX®, Nucleus®, and VxWorks®. Intelligraphics has offices in Richardson, Texas and Bangalore, India.