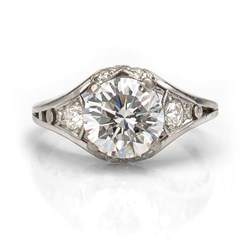 I wanted to give my guests the opportunity to browse the showroom in an intimate and cultured setting, allowing them to spend time with our family of knowledgeable staff, and to just enjoy themselves. The idea behind this event is
New York, NY (PRWEB) October 14, 2013
For three days the valued clients of Facets, a fine hand-crafted jewelry retailer based in Brooklyn, will be invited to attend an exclusive event featuring the store's entire inventory. Guests will be able to enjoy hor d'ourves and drinks, and spend an enjoyable evening browsing the store's collection of hand-crafted, antique and heirloom jewelry. Items will be available at discounted prices, and the talented and artistic staff of Facets will be available to mingle and answer any questions clients have.
"I wanted to give my guests the opportunity to browse the showroom in an intimate and cultured setting, allowing them to spend time with our family of knowledgeable staff, and to just enjoy themselves. The idea behind this event is really to give back to the people who support Facets, and to offer them a behind the scenes look at the artistic vision behind our business, along with some great discounts," said Irina Sulay, of Facets.
Along with Facets' stunning array of antique wedding and engagement rings, there will be the stores entire selection of special occasion and everyday jewelry. Whether someone is shopping for themselves or for someone special in their lives, the huge and unique selection at Facets' makes it possible to find the perfect piece for everyone. The prices at this event will never be available to the public, and they come at the perfect time for people who are trying to get ready for the upcoming holiday season.
The event will take place October 25, 26 and 27 at 5:00 – 9:00 PM each evening. To RSVP to the event email irina(at)facetsparkslope(dot)com.
About Facets Fine Hand-crafted Jewelry
Facets Fine Handcrafted Jewelry has been serving the Brooklyn, NY area since 2001. The unique boutique style showroom and the expertise of the staff, sets Facets apart from other fine jewelry stores. Facets also offers their exclusive selection of handcrafted, antique and heirloom fine jewelry online at http://facetsparkslope.com. Facets is planning on beginning 2014 with their participation in fine gold and gemstone jewelry tradeshows.