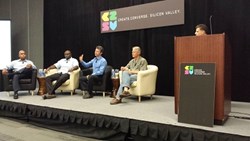 Las Vegas, NV (PRWEB) October 02, 2013
Social Media Gateways, Inc. (SMG) company principals were featured last week showcasing their revolutionary social commerce platform, sSnapp! at two mega industry conferences, Silicon Valley's C2SV (Creative Convergence 2013) and Las Vegas' G2E (Global Gaming Expo).
SMG's Founder/CEO, Moses Kusasira and President, Tommy Richardson, took stage Saturday at the inaugural C2SV conference presenting sSnapp! along with industry gurus and legendary technologist John McAfee, Steve Wozniak, and Yahoo Chairman Maynard Webb, among others. Also performing was famed technology executive and guitarist, James Williamson of Iggy and the Stooges. The excitement and interest were evident from the audience as the SMG executives discussed technology startup products from idea to revenues as part of their presentation.
The CS2V conference featured famed visionaries, entrepreneurs, authors and educators who are making a difference in the rapidly changing, technology driven world of today. Thousands of attendees were able to experience the mix of music and technology. Reported and quoted in Monday's edition of The Silicon Valley Business Journal, C2SV will return to San Jose next year after the tech-music festival's inaugural run drew about 5,000 attendees. "I think we won over the skeptics," said event organizer Dan Pulcrano, who is also Executive Editor and CEO at the Metro Silicon Valley weekly newspaper.
The sSnapp! platform also received rave reviews while being presented at last week's G2E. Over 30,000 casino executives and vendors were in attendance to view the newest in cutting edge industry technology. "sSnapp! supports and creates a secure environment where users are in control, and businesses want to be to communicate their brands and interest," said Kusasira.
The sSnapp! platform integrates all major social networking and pushes out social promotions and viral campaigns that create customer loyalty. sSnapp! also increases the customer base by leveraging the ever expanding big data from identified social influencers. The technology provides marketers the ability to monetize social networking.
To learn more about Social Media Gateways visit SocialMediaGateways.com.
To learn more about sSnapp! visit sSnapp.com.
About Social Media Gateways, Inc.: Social Media Gateways is a leading niche innovator of mobile social commerce technologies. The Silicon Valley based company also has offices in Las Vegas, NV and specializes in cloud-based social commerce solutions for enterprise in the hospitality, retail, sports, and entertainment sectors. The company has worked with brands such as Pepsi-Cola (PBV) and Skechers, among others. Through their Silicon Valley advisory board, SMG has received private angel financing and recently opened their product development office in Palo Alto. SMG is considered a top company to watch in 2013.