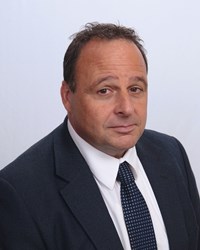 Our philosophy at Hudson United is to make the transaction of buying a home painless and transparent. - Dan Rand, Vice President or Hudson United Mortgage.
New City, NY (PRWEB) October 17, 2013
Dan Rand, Vice President of Hudson United Mortgage, announced today that Frank Vero, formerly of Weichert Financial, has joined the New City office as their newest loan officer serving the Rockland County NY area. Hudson United Mortgage is the residential and commercial lending division of Hudson United Mortgage, Title and Insurance; it specializes in providing easy mortgage financing options in NY and NJ.
"Frank brings over ten years of residential real estate experience to his new position," said Rand. "This is a major benefit to any of his clients that are potential first time home buyers. Our philosophy at Hudson United is to make the transaction of buying a home in NY painless and transparent. We want the customer to know what is going on, what they can expect and how much it is going to cost them with no surprises. That is not an easy task for a loan officer with little experience. Frank knows how to set expectations and keep his clients informed and at ease."
Vero holds a Bachelor of Science from Fairleigh Dickinson University and is a Licensed Mortgage Originator that specializes in residential real estate. He is licensed to originate mortgages in both New York and New Jersey.
"I am delighted to be joining the Hudson United Mortgage team," says Vero. "Their methodology for helping home buyers purchase a new home is second to none, and it is great to be able to use their tools to give five star quality customer service to my clients."
Vero currently resides in Airmont, NY. He can be reached at 914-391-3176 or via email at frank.vero(at)randrealty.com.
About Hudson United Mortgage, Title and Insurance Services
Hudson United brings the mortgage, title, and home insurance process all together in one location giving its clients maximum control of their real estate transaction. All of the moving parts of the real estate transaction take place under one roof. The result is a more cost effective, and simplified process. Hudson Abstract Services Professional, LLC issues title insurance policies as an agent for Title Resources Guaranty Company and The Security Title Guarantee Corporation of Baltimore. Their responsibilities include conducting the searches that determine whether a property is properly insurable, including performing comprehensive searches of county records to trace titles to properties and check for existing code violations. Hudson United Mortgage LLC is a full service mortgage brokerage, with total flexibility to place loans with over 15 banks. Hudson Group Insurance Agency helps clients find the best possible insurance for their situation by having the ability to issue policies from over 20 different insurance companies. All three divisions can be found at http://www.HudsonUnited.com.