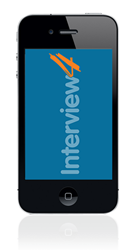 ...video interviews get the best candidates invited to the face-to-face interview...
Gloucester, VA (PRWEB) October 03, 2013
Video Interviewing over the internet has seen increased usage, primarily due to time and cost savings in the hiring process. Surveys indicate that as many as 10% of organizations have turned to web-based video technology for interviewing job applicants. Despite evidence of reduced interview costs, no research has examined the validity of web-based video interviews.
Hire-Intelligence, creators of Interview4 video interviewing software, commissioned the first study to evaluate the technology. Using a sample of 75 professionals, Dr. C. Allen Gorman, a management consultant and Assistant Professor of Management at East Tennessee State University, conducted a preliminary study to estimate the validity of interviews conducted using Interview4.
The study found that ratings of the applicant, applicant characteristics, and interview responses all predicted job performance and associated work outcomes. Although an initial attempt at validation, the results are encouraging for organizations looking to lower hiring costs yet maximize interview validity and value.
"While significant cost savings are being realized by our users, our experience using video in hiring, literally over decades, has led us to realize that the biggest benefit is the greater insight video can provide employers versus any other screening technique short of a face-to-face interview," said Jim Robinson, CEO and co-founder of Hire-Intelligence. "Time after time we have seen video interviews help get the best candidates invited to the face-to-face interview, even those who may not have passed other screening criteria, for example, resume keyword screening."
A white paper describing the study conducted by Dr. Gorman for Hire-Intelligence is available at http://www.hire-intelligence.com/physiognomy-study/.
Hire-Intelligence ("hi") is a human resources technology company that creates job candidate assessment protocols to increase the efficiency and effectiveness of the recruitment and hiring process. The founders of Hire-Intelligence have more than 20 years of experience in the human capital management (HCM) world. This knowledge of the HCM industry informs all of the company's hiring software and service offerings. The goal is to provide high-value tools and services to the HR world, delivering real, measurable ROI to users.