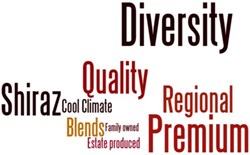 ...the high quality and diversity of wines from regional appellations across higher price points, which may well be a 'leading indicator' of what the U.S. market might be seeing in the coming years.
Washington, D.C. (PRWEB) October 04, 2013
Wine Australia's 'Next Chapter' research project funded by The Grape and Wine Research and Development Corporation of Australia, is pleased to announce the results of a major U.S. trade survey conducted by Wine Opinions following outreach to Importer, Distributor and On/Off Premise account respondents earlier this year.
John Gillespie, Founder and CEO of Wine Opinions further explained, "We ran four online discussion groups, which included key gatekeepers in the critical tiers of the industry. A common theme that emerged was growing trade recognition of the high quality and diversity of wines from regional appellations across higher price points, which may well be a 'leading indicator' of what the U.S. market might be seeing in the coming years."
The overall objective of this study was to gain an understanding of the thinking and motivations of the U.S. wine trade in respect to Australian wines, and to explore barriers for developing premium Australian wine sales in the U.S. market. For a full copy of the report, please contact Angela Slade, Wine Australia Regional Director, North America: angela.slade(at)wineaustralia(dot)com.
Key Learnings

Australian wines' most promising attribute, identified by all tiers of the trade, is the variety of quality wines produced that express the terroir of Australia's diverse wine regions.
The quality to price ratio Australia offers is still a top attribute. Value at all price levels was believed to be a key market driver. The trade believes that consumers today are looking for value in mid-priced wines where they feel more confident they will find quality
The perception that Australia only produces "jammy" high alcohol wines is changing, as the trade is beginning to perceive higher quality wines in a different style coming from Australia that they believe are matching up with changing tastes in the U.S. among both the trade and consumers
Trade respondents have very high regard for Australian high-end wines. They see Australia producing wines in styles unlike the "fruit bombs" on which their reputation was built
Inventories of Australian wines are now slowly rebuilding after reaching a comfortable level through forecast accuracy, reducing "safety stock," dropping unsuccessful Australian wines and purchasing less
New product introductions, sweet wines and new blends from Australia, have boosted inventory
"These survey results demonstrate a very exciting validation of the trade's recognition for - Australia's premium, regional offerings," stated Angela Slade, Wine Australia Regional Director, North America.
"This very important research further substantiates the growing interest, support and genuine feedback we have received directly from Wine Australia's community of importers, distributors, restaurateurs and retailers," Slade continued.
Building on this positive sentiment, Wine Australia just concluded its inaugural 'Savour Australia' – the biggest and most comprehensive Australian wine forum ever undertaken. Held from September 15 – 18, 2013 in Adelaide, the event was a complete immersion into the Australian wine industry with business sessions presented by some of the world's most-renowned authorities on wine, consumer trends and retailing; themed lunches and dinners prepared by some of Australia's top chefs; a Grand Tasting featuring 170 Australian wineries; plus Landmark wine tastings presented by Australia's leading winemakers and international personalities showcasing Australia's ultimate wine offerings from the past, present and future.
Savour Australia attracted more than 750 attendees including 75 participants from North America many of whom contributed as Savour Australia guest speakers and panellists.
"With an improved sentiment shift in the US and increasing recognition of quality Australian wines, the time is right to remind the U.S. wine trade and consumers about our innovative and high quality wines," stated Wine Australia's General Manager, James Gosper.
"On top of that, Tourism Australia's new food and wine focus, which was announced at Savour Australia 2013, will help forge a strong identity in the marketplace about Australia's incredibly diverse, unique and top quality wine and food experiences," commented Gosper. "This is an exciting new era in the promotion of our food and wine."
Wine Australia's upcoming actions for the U.S. market will be based on the key learnings of this research project, and will feature multiple retail and restaurant trade promotions as well as a new consumer outreach effort in partnership with Tourism Australia.
Trade education will continue to play a major role in Wine Australia's activities. Wine Australia Education Director, Mark Davidson is offering customizable and tailor-made education programs for importers, distributors and trade, each crafted to accommodate the varying needs of small, mid-size and large wineries. For more information on Wine Australia's education programs please contact Mark Davidson, Wine Australia Education Director: usa(at)wineaustralia(dot)com.
# # #
For more information on Wine Australia, please visit: http://www.wineaustralia.com.
Connect with Wine Australia at: twitter @wine_australia.
Contacts:
Donna White, Gregory White PR CT / donna(at)gregorywhiteprct(dot)com / C: 203 558 4262
Angela Slade, Wine Australia / angela.slade(at)wineaustralia(dot)com / C: 415 819 5131
About Wine Australia:
Wine Australia is an Australian Government statutory authority established in 1981 to provide strategic support to the Australian wine sector. Its mission is to identify and maximize the environment for sustainable demand for Australian wine through market development, compliance, addressing trade and market access impediments and wine sector intelligence. Wine Australia Corporate Head Office is based in Adelaide and the Market Development Group is based in Sydney. Wine Australia has international offices in the USA, Canada, China and the UK.
In the North American market, Wine Australia is led by Regional Director, Angela Slade and provides a collaborative framework for the Australian wine category to secure maximum trade, press and consumer visibility. A team of industry professionals is dedicated to building confidence and increasing demand for Australian wines through extensive trade education, trade promotional programs, public relations, and events.