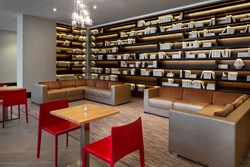 Every change – ranging from new bedding to fresh dining options – was designed to improve our guest experience.
Cincinnati, OH (PRWEB) October 03, 2013
Downtown Cincinnati's Hyatt Regency Hotel announced today its completion of more than $23 million in renovations, re-launching the property as one of Cincinnati's premier hotels.
"We're excited to welcome guests to our completed hotel," said Bruce Flyer, General Manager, Hyatt Regency Cincinnati. "Every change – ranging from new bedding to fresh dining options – was designed to improve our guest experience, and we're looking forward to showing visitors everything we have to offer to make their stay relaxing and enjoyable."
The 491-room hotel began extensive updates in December 2012, including:

Renovations of its existing 486 guest rooms and the addition of five rooms. All guest rooms are furnished in neutral tones with red accents and incorporate new bedding, wall coverings, drapes, workstations, carpeting, mini-refrigerators, safes and LG 42" flat screen televisions.
The opening of Red Roost Tavern, a farm-to-table style restaurant, provides guests and Cincinnatians with an upscale dining experience sourced from more than two dozen farms, distilleries and purveyors in the Midwest.
The addition of more than 3,450 square feet of event space brings the property's total to 18 meeting rooms and two board rooms. In addition, the updated ballroom boasts more than 14,000 square feet of space for grand scale events.
A modern lobby with access to The Market, an on-the-go option for dining fare, and the Library, an area for guests to enjoy complimentary Wi-Fi access.
Construction of a new front drive and installation of upgraded elevators.
The hotel also offers new features for guests, including the first saltwater pool in downtown Cincinnati and an updated fitness center in a new location on the second floor. Cincinnati-inspired artwork is featured throughout the property, and guests will also enjoy new Kenet MD bath products.
"The completion of these renovations marks the renaissance of one of downtown Cincinnati's premier properties," said Dan Lincoln, President and CEO, Cincinnati USA. "Whether guests are in town for the weekend, business traveling through the week or visiting for just one night, Hyatt Regency Cincinnati offers comfort and access to all the great things happening in downtown Cincinnati."
About Hyatt Regency Cincinnati
Hyatt Regency Cincinnati, a 491guest room hotel, offers a variety of guestrooms including a Presidential Suite, Premier Suite and twelve VIP suites. All of Hyatt Regency Cincinnati's accommodations feature pillow-top Hyatt Grand Beds™, iHome alarm clocks and large workstations with high-speed wireless internet access. For more information visit: cincinnati.hyatt.com or call: 513-579-1234.
About Hyatt Regency
Hyatt Regency offers a full range of services and facilities tailored to serve the needs of meeting planners, business travelers and leisure guests. Properties range in size from 180 to over 2,000 rooms and are conveniently located in urban, suburban, airport, convention and resort destinations around the world. Hyatt Regency convention hotels feature spacious meeting and conference facilities designed to provide a productive environment allowing guests to convene and connect. Hyatt Regency hotels in resort locations cater to couples seeking a getaway, families enjoying a vacation together and corporate groups seeking a functional and relaxed atmosphere in which to conduct business and meetings.