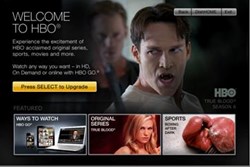 Now, adding HBO is as easy as clicking a button, thanks to Ensequence and DISH.
New York, NY (PRWEB) October 08, 2013
Ensequence, the leading supplier of advanced television products, today announced the introduction of HBO Instant Upgrade that allows DISH customers to preview HBO's most current titles and upgrade instantly using the remote control.
"HBO Instant Upgrade is just one example of how our advanced programming products can bring more revenue to programmers and distributors," said Peter Low, chief executive officer of Ensequence. "This technology, along with the entire suite of enhanced programming products we've introduced, drives business value while enhancing the viewer experience."
Advanced programming products allow networks to easily produce interactive content at scale, driving deeper viewer engagement, increasing time spent viewing and boosting ratings.
"Now, adding HBO is as easy as clicking a button, thanks to Ensequence and DISH," said Bernadette Aulestia, Senior Vice President, Domestic Network Distribution, HBO. "As we roll out our fall programming lineup, we're excited to see DISH subscribers taking advantage of this instant upgrade, gaining immediate access to HBO's acclaimed series, films, documentaries and more."
About Ensequence
Ensequence Inc. provides a suite of advanced products that allow programmers, service providers and advertisers to drive deeper engagement, increases in programming ratings, advertising effectiveness and new ad opportunities across cable, satellite, telco and connected devices. Ensequence's customers include the largest and most innovative programmers and service providers in the media industry: NBCUniversal, Viacom Media Networks, Showtime Networks, Turner Broadcasting, HBO, QVC, WE tv, MSG, Fuse, Comcast, Time Warner Cable, DISH Network and Verizon. In addition, Ensequence is deployed on multiple connected device platforms. Ensequence's lead investor is Myrian Capital (http://www.myriancapital.com), a growth capital management firm with investments in video communications, mobile media and advanced advertising solutions. To learn more, visit http://www.ensequence.com and follow Ensequence on Twitter.
About HBO
Home Box Office, Inc. is the premium television programming subsidiary of Time Warner Inc. and the world's most successful pay TV service, providing the two television services – HBO® and Cinemax® – to approximately 114 million subscribers worldwide. The services offer the most popular subscription video-on-demand products, HBO On Demand® and Cinemax On Demand® as well as HBO GO® and MAX GO®, HD feeds and multiplex channels. Internationally, HBO branded television networks, along with the subscription video-on-demand products HBO On Demand and HBO GO, bring HBO services to over 70 countries. HBO programming is sold into over 150 countries worldwide.
About DISH
DISH Network Corporation, through its subsidiary DISH Network L.L.C., provides approximately 14.092 million satellite TV customers, as of March 31, 2013, with the highest quality programming and technology with the most choices at the best value, including HD Free for Life®. Subscribers enjoy the largest high definition line-up with more than 200 national HD channels, the most international channels, and award-winning HD and DVR technology. DISH Network Corporation's subsidiary, Blockbuster L.L.C., delivers family entertainment to millions of customers around the world. DISH Network Corporation is a Fortune 200 company. Visit http://www.dish.com.