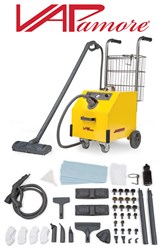 The 2013 Pest World show is a great opportunity to get the word out about the benefits of using steam as a green alternative to using chemicals for pest treatment.
Scottsdale, Arizona (PRWEB) October 04, 2013
Upon first glance at the MR-1000 Forza, it's obvious that this product is different from the competitive products in its class. You will first notice that the chassis is rugged and finished with a yellow industrial power coating. The MR-1000 Forza is also equipped with large industrial type wheels and sturdy handles making mobility easy, intuitive control panel with a pressure gauge, steam pressure knob, multicolored indicator lights as well as an audible beep that sounds when more water is required. Looking under the hood reveals high quality components such all brass fittings, heavy duty hosing, insulated stainless steel boiler and a computerized control module.
It doesn't stop there. The MR-1000 FORZA is a complete steam cleaning system. It includes more attachments than any other steam cleaner available. Cleaning professionals will appreciate the variety of attachments. Exterminators will benefit from the MR-1000 Forza's high temperature steam output, and specially designed wide area pest treatment attachment for pest, allergen and bedbug treatment. Professionals will also benefit from the capabilities of cleaning with steam. Steam cleaning uses no toxic chemicals, and supports the green cleaning initiative. Steam cleaning is also just as effective as chemical cleaners for removing spots, grease, grime, cleaning grout, floor cleaning as well a multitude of other cleaning applications.
"We are looking forward to showcase our new MR-1000 Forza at the 2013 Pest World Show. The Pest World show is a great opportunity to get the word out about the benefits of using steam as a green alternative to using chemicals for pest treatment." He continues, "Exterminating professionals will appreciate the value just by eliminating the buying of chemicals alone. The MR-1000 Forza is a superior product at the lowest price in its respective class. This is a decisive factor for those exterminating professionals who are looking to invest in a commercial steam cleaner.
Forza Features Include:
50 Accessories and Attachments
Continuous Flow, No Down Time
Italian Made CEME© Brand Components
Techflex© Braided Steam Hose
Computer Controlled Operation
1700 W Heating Element
Specially Designed Stainless Steel Boiler
90 Psi, 290° Steam Output
Extra Long, 25 ft Power Cord with Adjustable Winding Hooks
Vapamore has hit a home run with the MR-1000 Forza. It is the most complete steam cleaning system available. The MR-100 Forza is a sound investment for cleaning and exterminating professionals as the lowest price and high value this product has to offer. Visit the Vapamore booth #1001 at the 2013 Pest World Show held at the Phoenix Convention Center to see the MR-1000 Forza in action.
Vapamore is the leader in the steam cleaning products industry and is known as the standard for products of quality and value. Vapamore manufactures innovative steam cleaning products that are designed and tested for usability and longevity. Vapamore ensures that their products meet consumer needs through a rigorous customer based product development process as well as providing the Vapamore exclusive lifetime warranty covered by all Vapamore steam cleaning products. To learn more about Vapamore steam cleaning products, visit http://www.vapamore.com or telephone 480-951-8900.