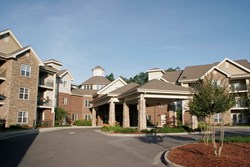 "Our new association with NHI provides us a solid foundation for further expansion opportunities not only in Florida, but in adjoining states."Thomas J. Harrison, CEO, Discovery Senior Living
Rainbow City, AL, Naples, FL (PRWEB) October 07, 2013
Discovery Senior Living in Bonita Springs, Florida, has entered into an agreement with National Health Investors Inc. to be the new manager of Regency Pointe, a senior-living community in Rainbow City, Alabama. NHI recently acquired the 120-unit retirement community for $12 million, announced Discovery Senior Living CEO and co-founder Thomas J. Harrison. Discovery is leasing the community for an initial 15-year term with options to extend. Built in 2003, Regency Pointe has 72 rental independent living units, 36 assisted living units and 12 memory care units.
NHI also made a $2.5 million commitment to a second mortgage loan for the construction of Discovery Village at Naples, a senior-living community on a 6.9-acre parcel at 8417 Sierra Meadows Boulevard in Naples, Florida, which will be developed and managed by Discovery Senior Living. Construction is planned to begin this year, generating employment for approximately 100 workers to build the 120,000-square-foot residential building. The $30 million community is expected to be complete by January 2015.
"Our new association with NHI provides us a solid foundation for further expansion opportunities not only in Florida, but in adjoining states," Harrison said. "We are very excited about our continued growth with Regency Pointe, like all of our communities that cater to seniors who enjoy being active and independent in beautiful surroundings."
About Discovery Senior Living
Discovery Senior Living, a family of companies founded by Thomas J. Harrison and Richard J. Hutchinson, includes Discovery Management Group, Discovery Village communities, Aston Gardens communities, Discovery Realty Group, and Discovery at Home, a Medicare-certified home healthcare company. For more than 20 years, Discovery Senior Living has developed, built and operated upscale, luxury senior-living communities. The award-winning management group has a flourishing portfolio of more than 2,000 homes for seniors; caring for almost 2,500 residents and has become a recognized industry leader in the development, marketing and management of world-class resort-style communities. Discovery Senior Living is located at 3301 Bonita Beach Road, Suite 208, Bonita Springs, FL 34134. Online at http://www.discoveryseniorliving.com
About National Health Investors Inc.
NHI is a real estate investment trust specializing in financing healthcare real estate by purchase and leaseback transactions, RIDEA transactions and by mortgage loans. NHI's investments include assisted living, senior living campuses, independent living, skilled nursing facilities, medical office buildings, and hospitals. Justin Hutchens is NHI's CEO and president. Find additional information at http://www.nhireit.com.