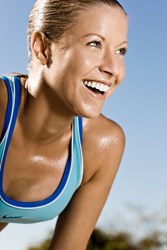 The great part about the SexyFitVegan™ DeliverLean plan is that it creates a smooth transition for people wanting to start in the direction of enjoying the vast health benefits of going vegan.
Boca Raton, FL (PRWEB) October 04, 2013
DeliverLean, South Florida's premiere gourmet diet delivery service, has teamed up with SexyFitVeganTM Ella Magers to create a deliciously healthy vegan program. The company now offers perfectly portioned, calorie-controlled gourmet vegan meals that are prepared by executive chefs and packed with fresh fruits, vegetables, complex carbs and lean, plant-based protein sources. As with all other DeliverLean offerings, this new service offers affordable, healthy meals that are hand-delivered straight to clients' homes or offices.
Paying homage to the hot vegan trend sweeping the country, the SexyFitVegan Approved™ DeliverLean meal plan kicks off in October 2013. DeliverLean Executive Chefs James Donato and Andrew Whiteman created the plan in conjunction with Magers. Ranging between 750 -1200 calories per day (250-400 per meal), the plant-based, environmentally conscious and mostly organic vegan plan avoids the "Dirty Dozen."
The plan is available in two, four or eight week blocks. It focuses on breakfast, lunch and dinner, with an optional cold-pressed organic juice from DeliverLean's sister company, OnJuice™. Sample breakfast offerings include a cultured coconut parfait with pineapple, walnuts, hemp seeds; a tofu scramble, southwest style with black beans, peppers, onions and sliced tomato or an open-face sandwich on Ezekiel bread with tempeh bacon, lettuce, tomato and low fat veganaise. Lunch options include Thai lettuce wraps with peanut dipping sauce; a large salad comprised of greens, portabella mushrooms, sundried tomatoes, artichokes, pine nuts and balsamic or a veggie burger salad featuring a sun burger, greens, tomato, cucumber, and avocado with an olive oil and herb vinaigrette. Dinner offerings include roasted whole peppers stuffed with beans, quinoa and mushrooms; a raw nori roll with seaweed salad or curried green lentils with roasted root vegetables.
"The great part about the SexyFitVegan™ DeliverLean plan is that it creates a smooth transition for people wanting to start in the direction of enjoying the vast health benefits of going vegan without being overwhelmed by the process," shares DeliverLean brand ambassador Magers.
Priced from $9.95 - $11.95 per meal depending on length of commitment, the program offers a healthy, convenient and affordable option to ease customers into a sexy, fit and healthy vegan lifestyle. DeliverLean will be promoting a limited time special offer to encourage sign up. Sign up for a four week plan at $7.95 per meal (regularly $10.95 per meal) and get two days FREE. Go to http://www.deliverlean.com/sexyfitvegan for more information.
About Ella Magers
Ella Magers began participating in sports at the age of five and, as an avid animal lover, stopped eating meat at the age of seven. The Miami Beach resident launched SexyFitVegan.com in 2013 to support a broader population of people in their transformation to a plant-based diet and active lifestyle. The 17-year vegan-veteran is a NASM Certified Personal Trainer and Wellness Coach. She has a Masters in Social Work and is working on a Doctorate in Holistic Sports Nutrition. An authority on health and fitness, Magers was most recently named Personal Trainer of the Month on BodyBuilding.com. Her passion for helping people transform their lives, combined with her compassion for animals, and her fighter spirit lays the foundation for her SexyFitVegan philosophy of understanding the body from the inside out. On her website, Magers gives people the tools they will need on their journey in the form of newsletters, ebooks, sample meal plans, product reviews, recipes, tips, and more. For more information visit http://www.sexyfitvegan.com.
About DeliverLean
DeliverLean, Florida's fastest growing diet delivery service, was established in September 2011 by health-conscious foodies and savvy business professionals Scott Harris and Olga Kuzenkov as a solution to save people time and energy, while simultaneously providing a nutritious and delicious way to attain a healthy body weight. Insuring DeliverLean's position as the category leader in taste, the company recruited culinary masters Andrew Whiteman and James Donato from two of the most notable private aviation catering companies in the United States to lead the culinary direction of the brand. DeliverLean's calorie and portion-controlled meals are packed with lean proteins, fresh fruits and vegetables and complex carbohydrates that are full of vitamins and nutrients, giving customers the energy needed to tackle a busy day. All menus are approved by licensed and registered dietitians that work on-site and all menus are additive-free, low sugar, dairy-free and low-sodium, providing the best fuel for client's bodies. They offer a selection of 5 savory meal plans catered to each individual's needs including plans for men, women, diabetics, celiac and those interested in an organic, paleo, gluten-free, vegetarian or vegan diets. Equally as important as taste and nutrition is convenience and customer service, thus DeliverLean offers complimentary access to certified nutritionists and the power to skip meal deliveries without penalty. DeliverLean prepares nearly 80,000 meals monthly for customers in South Florida. DeliverLean is currently available from Jupiter, FL to Kendall, FL but expansion to additional markets is set for 2014. DeliverLean, as a growing health & wellness brand, recently introduced OnJuice, a line of organic cold-pressed juices and cleanses – the hottest beverage category in the country. Visit DeliverLean.com or OnJuice.com for more details. For more information visit http://www.DeliverLean.com.
---
For media inquiries, please contact Carma Public Relations & Marketing
Oriane(at)CarmaPR(dot)com | 305.438.9200
Plan Overview:

250-400 calories per meal
Plant based, mostly organic, no animal products
Avoids the dirty dozen
Plan options:
o Three meals per day minimum
o Three meals + one juice per day

Ella recommends three meals + one juice daily
Pricing:
Eight weeks - $9.95 per meal
Four weeks - $10.95 per meal
Two weeks - $11.95 per meal
Limited Time Introductory Offer
Reduced to $7.95 per meal (regularly $10.95 per meal) + Get 2 days FREE with the purchase of a 4 week plan
Sample Daily Menu:
Breakfast: Mango & Blueberry Cultured Coconut Yogurt Parfait w/ Organic Granola
Lunch/Dinner: Raw Eggless Egg Salad over Mixed Green Salad
Lunch/Dinner: Thai Curry Rice Stuffed Peppers w/ Wild Mushrooms, Spinach & Onions
Juice: Sublime