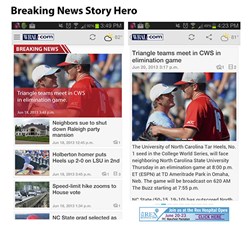 'With the ability to incorporate visually-striking breaking news stories, we continue to improve the product offerings for our news consumers and differentiate ourselves in our markets,' says Daria Rachlin, Senior VP of Digital Media at Bonten Media Group.
Raleigh, NC (PRWEB) October 03, 2013
This summer, StepLeader released a complete overhaul of their app's user interface and new "Breaking News" representation with impressive results.
App engagement, measured by pageviews read per unique user, has increased 10% from 81 pages/mo to 89 pages/mo. Fox stations have seen a 70% increase in weekly video views, and 327% increase in week over week video revenue.
These increases in views and revenue can be attributed to StepLeader implementing support for complex content in its recent release, and the new breaking news treatment. Complex content refers to hyperlinks, images and videos appearing within stories. With the introduction of complex content support into the app, users do not have to leave the story to view relevant videos and images. App users consume stories without disruption, keeping them engaged longer.
Additionally, StepLeader's breaking news representation allows news stations a unique format to display their urgent news updates, drawing the reader to the most important stories in the app.
StepLeader decided to focus on creating a breaking news treatment after surveying over 1,100 people who have a local news app installed on a smartphone, tablet, or connected TV with their Local Media App Trends Survey. A powerful insight emerged: local news app users primarily prefer to use the app to receive breaking news, and compared with the other categories within the app, users consider it the most important category by far.
"With the ability to incorporate visually-striking breaking news stories, we continue to improve the product offerings for our news consumers and differentiate ourselves in our markets," says Daria Rachlin, Senior VP of Digital Media at Bonten Media Group. "StepLeader truly understands the importance for local news organizations to be able to inform the public of critical information immediately."
About StepLeader
Located in downtown Raleigh, StepLeader formed in 2004 when it developed the nation's first news app for local media. Today, the company offers solutions and thought-leading expertise to help trusted content producers deliver their stories across mobile apps, mobile websites and smart TV apps. StepLeader provides advertisers with transparent access to a nationwide audience, delivering more than 400 million ads monthly. StepLeader has a proven track record of quality return-on-investment for its partners including Scripps Television Station Group, Fox Television Stations, Morgan Murphy Media, News-Press & Gazette Company (NPG) and Capitol Broadcasting Company.
http://www.stepleaderdigital.com