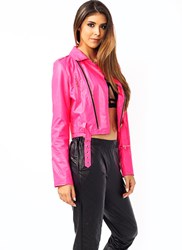 Los Angeles, Cali. (PRWEB) October 14, 2013
GoJane.com, an Internet retailer of fashion-forward apparel for progressive young women, is proud to announce its faux leather collection, featuring nearly 70 new and restocked items for women who love leather, but not the baggage that comes with it to weigh them down.
GoJane style editors have handpicked some of the most coveted pieces of the season, including tops, vests, jackets, skirts, leggings, pants, boots, purses, bags, dresses, sweatshirts, jackets and even baseball caps. But, because this is not real leather, you can kiss guilt goodbye and remain as cool, calm and collected as you look on the outside, whether you want to go full-on biker chick or just want a few pieces that pop.
Like leather, faux leather is also light, easy to clean and durable, so this GoJane collection can take whatever you dish out. It's also a more wallet-friendly option, so you can stock your closet even further.
"Our faux leather collection offers the best of both worlds," says a GoJane rep. "These stylish, attractive pieces suit the conscientious consumer who doesn't want to compromise her ideals. Plus, you don't have to be a dominatrix to pull off these looks. You just have to rock it with your own personal style."
GoJane's faux leather collection comes in shades like black, green, ivory, red, pink and plum.
And, always: Be comfortable. Be chic.
For more information about faux leather, visit: http://www.gojane.com/trends-faux-leather.html
Contact info:
GoJane.com
Phone: 1-818-581-4652
Email: marketing(at)gojane(dot)com
Website: http://www.gojane.com
About GoJane.com
GoJane is a dedicated team of fashion fanatics, committed to the goal of connecting customers with their own unique fashion sense. For over 14 years, GoJane has been devoted to elevating style and self-perception while keeping it fun and inclusive of all trends. GoJane's teams of buyers are constantly on the lookout worldwide and locally for the next must-haves! GoJane adds tons of new styles every day to keep you at the forefront of fashion. Why wait when you can find something new at GoJane.com?