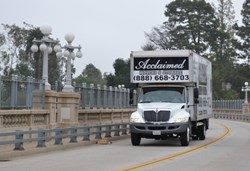 North Hollywood, CA (PRWEB) October 04, 2013
Acclaimed Movers & Storage, the premier full-service luxury moving company based in Southern California, has improved their online presence by adding videos on web filmed in Los Angeles. The videos, posted on several pages of http://www.acclaimedmovers.com, show Acclaimed Movers staff at work and detail various aspects of the moving process. Videos can currently be found on the International Moving, Auto Transportation and Office Moving pages, but more may be added over time. Each clip runs from one to four minutes. The company developed these videos on web filmed in Los Angeles so customers could visualize what happens during a relocation with Acclaimed Movers & Storage, and to help them make an informed choice when selecting a professional moving company.
Full-service relocation assistance for residential and commercial clients is what made Acclaimed Movers & Storage famous, and these informative videos on web filmed in Los Angeles are just one of the myriad ways the company fulfills its goal of improving the overall moving experience for their customers. Every local, long distance and international moving challenge is met by a courteous and professional staff member, rigorously trained and skilled to handle all the details. Scheduling and pickup are arranged at the client's convenience whenever possible, and all items handled during disassembly, packing, transportation and unloading receive exceptional care. If storage is required, a climate-controlled storage facility with 24-hour surveillance is available to keep belongings protected from dust, rust, theft and the elements. When the unexpected arises, the Acclaimed Movers team is prepared to troubleshoot—plus they'll keep lines of communication open to keep the client informed and put their concerns to rest.
Acclaimed Movers & Storage believes that every move should be as effortless, fast and trouble-free as possible. All movers undergo a rigorous training course to develop exceptional packing and loading skills—up to and including special crating for unique items and careful placement of belongings on the moving truck. Drivers undergo similarly demanding training, and are also fully licensed and insured. Acclaimed Movers moving vehicles are equipped with GPS systems and bio-diesel fuel engines; the low carbon footprint of this "green" fleet is a point of pride for the company. Moving experts aren't just adept at commercial and residential moves: teams for piano moving, artwork crating and car transportation are also available. For more information go to the company website at http://www.acclaimedmovers.com or speak with a sales associate to discuss your moving needs and arrange for a free, no-obligation quote.