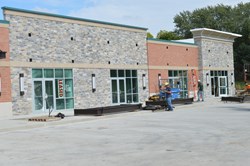 This project has been in the planning stages for a long time. To see it take shape and the individual shop identities begin to form, is a long-anticipated goal and a very exciting time for everyone who is involved.Geoff Franzenburg- Compass
Cedar Rapids, IA (PRWEB) October 08, 2013
It's an exciting month for Compass Commercial Services. 'The Fountains', a $34million, 19 ½ acre project has been in the planning stages since 2009 and under construction for the majority of 2013 is now almost ready for its first tenants. Two companies are scheduled for October move-in dates with final preparations underway for occupancy.
The Sanctuary Spa is relocating to almost double their current square footage and will occupy suites 106/108 in Retail Building #1. This high-end spa will specialize in relaxation, treatments and 'pampering of the sole' for each visitor. The Spa includes 7 individual treatment rooms offering a variety of services such as massage, body wraps, facials, waxing and make-up (just to name a few) as well as one larger room designated for couples to enjoy treatments at the same time.
Salon Jude will occupy suite 104 also in Retail Building #1 and will relocate from their current home at Town Center under the name of New Millennium Salon. This trendy and impressive salon is excited to offer full hair and nail services along with numerous treatment options and complete line of Aveda products.
Jimmy Johns will soon begin construction on the space in suite 110 at the east end of Retail Building #1. In addition to "Freakishly Fast" service, Jimmy Johns will offer a variety of sandwiches for dine in, delivery or through the convenient drive up window located at the end of the building.
Compass Commercial Services has kept a meticulous eye on the construction and progress of each building within The Fountains complex as well as the detailed build-out and design specifications of each suite for their tenants.
Several other commercial and retail establishments are in final negotiations to fill the remaining two suites in Retail Building #1 and continue into Retail Building #2. The entire Fountains complex will soon enjoy its long anticipated identity as an epicenter of gathering and enjoyment for everyone as the complex continues to take shape offering both commercial and office identity.
About Compass Commercial Services:
Compass Commercial Services is a full-service General Contracting and Construction Management firm in the Cedar Rapids area specializing in a wide range of commercial construction projects including interior and exterior renovations, remodeling, building additions and the complete construction of new buildings. As a TRUE design-build firm, Compass Commercial Services is poised to complete projects from the ground up. From the initial design through the entire building process, customers have the advantage of working directly with one company, and a team that is structured to deliver final projects on time, and on budget.