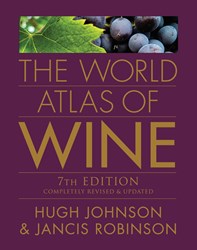 Hugh Johnson and Jancis Robinson are the Bordeaux and Burgundy of wine writers. - The Times
New York, NY (PRWEB) October 04, 2013
The World Atlas of Wine as it has never been seen before!
Click here for a preview in Apple's iBook Store: https://itunes.apple.com/us/book/world-atlas-wine-7th-edition/id718362835?mt=11.
The eBook edition includes panoramic maps, allowing each region to be enjoyed in stunning detail. Galleries of wine labels can be viewed as full-screen images and the stunning photography of the book is brought to life on the backlit screen of the iPad.
Key features include:

Author video
Interactive maps
Galleries of labels
Note-taking features
As Jancis Robinson commented, "Being able to zoom in on the detail of our wonderfully detailed maps really makes a difference – and the pictures are extra-sumptuous on an iPad. Now I understand why our picture editor was so particular."
Octopus Publisher, Denise Bates said, "Every new edition of the world's bestselling wine atlas is a major event. For this 7th edition, we have not only the magnificent physical book, the result of many years of research on the part of Jancis and Hugh, but also the excitement of launching the Atlas in a digital format for the first time."
Jancis Robinson gives you a quick tour here: http://vimeo.com/75204450.