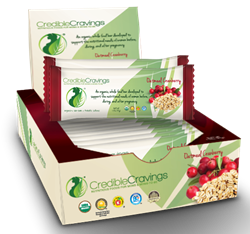 Orange County, CA (PRWEB) October 03, 2013
VIRGO (vpico.com), an information distribution company focused on the most innovative and complex business-to-business markets that fuel the U.S. and world economies, announced CredibleCravings' Perinatal Whole Food Bar as one of its 2013 SupplySide Editor's Choice Awards Finalists.
Five 2013 consumer packaged goods (CPG) products were selected by the SupplySide editorial team for achievements in innovation and market significance in 15 categories: animal nutrition, antioxidant supplements, beverages, digestive health, functional food, hair care, multivitamin, nutricosmetics, omega-3, organic, packaging design, skin care, specialty supplement, sports nutrition and weight management. One winner in each category will be announced at SupplySide West 2013 during the SupplySide Editor's Choice Awards Reception, set for Nov. 13 at The Venetian in Las Vegas.
"We are honored to have been selected as a functional food finalist by the SupplySide editorial team", said Stephanie Baker, Founder of CredibleCravings. "Proper perinatal nutrition is truly a game changer in seeking to improve the health of our next generation. Our goal with CredibleCravings was to develop a bar dedicated to the perinatal period through functional ingredients. CredibleCravings bars are comprised of organic whole foods whose nutritional profiles complement the perinatal period and a probiotic (GanedenBC30) to support digestive health and immune function. Ingredients with a purpose and nothing more."
For more than 15 years, SupplySide has helped dietary supplement, food, beverage, personal care and cosmetic professionals find information to explore, discover, innovate and market their next best-selling product. The inaugural Editor's Choice Awards is among several recent and forthcoming strategic initiatives to extend its services. The SupplySide West event draws 13,000 attendees and offers more than 1,700 exhibit booths showcasing innovative ingredients and technologies from around the world.
"Last year's inaugural Editor's Choice Awards program was a great success, highlighting the products that are coming to market, driven by the innovative ingredients highlighted at SupplySide," said Heather Granato, vice president, content, in VIRGO's Health & Nutrition Network. "This year's program expanded from 10 to 15 categories, and our editorial team was impressed by the range of products and out-of-the-box thinking that these companies are putting into product development to reach their target market."
The 2013 SupplySide Editor's Choice Awards Reception is sponsored by Draco Natural Products. SupplySide West will be held Nov. 12 to 16 at the Venetian and Sands Expo in Las Vegas. For more information, visit supplysideshow.com.
CREDIBLECRAVINGS CONTACT: Stephanie Baker @ CredibleCravings - stephanie(at)crediblecravings(dot)com; Erin Miller @ Ganeden Biotech - emiller(at)ganedenbiotech(dot)com.
VIRGO CONTACT: Katherine Hecker, Audience Marketing Manager, VIRGO Health & Nutrition Network, (480) 990-1101 ext. 1350, khecker(at)vpico(dot)com.
About CredibleCravings:
CredibleCravings is the first organic whole food bar developed collaboratively with nutritionists, midwives, and obstetricians to support the nutritional needs of women before, during, and after pregnancy. Each ingredient contained within a CredibleCravings bar was chosen for a specific nutritional benefit for mom and baby - no fillers, no artificial sweeteners nor preservatives. CredibleCravings bars are certified organic, certified gluten-free, kosher, non-GMO, soy-free, and contain 1 billion probiotic cultures. To learn more, please visit: http://www.crediblecravings.com.
About GanedenBC30:
Ganeden Biotech's probiotic, GanedenBC30® (Bacillus coagulans GBI-30, 6086), is a patented, organism that can be found in more than 80 leading food, beverage and companion animal products throughout the world. Unlike most other probiotic strains used in food and beverages, GanedenBC30 is highly stable and can remain viable through processing, shelf life and the low pH of stomach acid. The efficacy of GanedenBC30 is backed by 17 published studies. GanedenBC30 has an exceptional safety record and FDA GRAS status from the United States Food and Drug Administration. It can be formulated into virtually any product that is baked, boiled, squeezed or frozen. For more information, please visit http://www.GanedenBC30.com.
About VIRGO:
VIRGO is an information distribution company focused on the most innovative and complex business-to-business markets that fuel U.S. and world economies. Our mission is to help business professionals break through the hype, ambiguity and information deluge they experience, by offering trustworthy guidance on the decisions they need to make — be that early in their decision making process, whilst making a purchase decision, or following the decision when a product, service or ingredient is in use.
We do this in each of our networks by focusing on five key tenets that make their information journey fruitful: Content, Audience, Brands, User Experience and Performance Marketing.
With 19 brands including trade magazines and/or websites, trade shows and regional conferences, training and accreditation programs, and an expanding online platform, VIRGO leverages its events, publications, digital and other media to provide integrated solutions for professionals in industries including healthcare, natural products, telecommunications and self-storage.