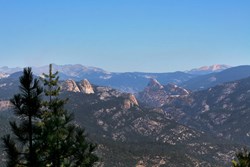 Oakhurst, CA (PRWEB) October 02, 2013
The Yosemite Sierra Visitors Bureau has been busy helping travelers who had intended on visiting Yosemite National Park find other things to do in light of the park's closure, forced by the shutdown of the Federal Government.
Currently only through traffic is allowed in the popular national park, meaning travelers can still see many of the iconic features of the park such as Half Dome and El Capitan, but any side roads are closed as are the vast majority of concessions. So tourism officials have been busy helping people find alternatives to Yosemite.
"We're fortunate in the southern gateway region of Madera County that we have a lot of attractions that are outside the park," said Jarrod Lyman Director of PR for the visitors bureau.
"We promote the 'Fossils to Falls Trail' which we normally show as a way to ensure people's vacations are not just about the destination, Yosemite, but about the whole journey. Now, this itinerary helps find alternatives as they wait for a solution to the shutdown," he said.
The Fossils to Falls trail has numerous museums and art galleries, the Madera Wine Trail, scenic beauty along the Sierra Vista Scenic Byway, Bass Lake and numerous other attractions.
"Our partners have been quickly moving to help tourists fill their vacation time with fun activities," said Lyman.
"The Yosemite Mountain Sugar Pine Railroad, a century-old steam engine that runs tours just outside Yosemite, has added several train runs and will continue to operate at least two tours a day throughout the week and longer should the crowds merit," he said.
Pat Althizer operates Photo Safari Yosemite, a business that takes amateur and even professional photographers to the best locations at the right times to capture "postcard quality" photos of the park. He's altered his tours as well in light of the shutdown.
"I took a group of people to Lewis Creek, had lunch at the Tenaya Lodge and then spent the rest of the day at Bass Lake getting photos along the Way of the Mono Trail there and then sunset. They had a great time and were happy," he said.
He said he's offer photo safaris to other areas that customers are interested in exploring as well.
There are still a couple of options inside Yosemite as well. The Redwoods in Yosemite is a collection of private vacation rentals in Wawona. They also have some hiking trails on private land that guests can still take. Interested parties are advised to inquire at The Redwoods front desk to learn more. They also have restrooms and a bistro on site that vacationers traveling through the park can use as other park amenities remain closed.
Fresno Flats, a historic park showcasing the way life was in the region during the 1800's in Oakhurst, is accommodating displaced guests by opening for tours during the week.
"Fresno Flats is always open for walking tours of the park," said Dwayne Turpin.
"If they want a guided tour, guests can call 658-1525 or 683-6570 and we'll gladly set up a time," he said.
Zip Yosemite, which operates a series of 6 lines totaling over half a mile of ziplines just outside of Yosemite, would normally offer weekend tours during October. They are expanding their service during the shutdown and will be open during the week days while the closure continues.
"Guests can call us and we'll set up a special tour for anyone looking to go on our course," said Wade Beane.
Nelder Grove of Giant Sequoia which is located outside of Yosemite along the Sierra Vista Scenic Byway is seeing higher visitor counts than normal as a result of the shutdown as well.
"The scenic byway is known as a 'secret Yosemite' as it's located adjacent to the park and offers some similar vistas, but is visited by far fewer people," said Lyman.
Lyman said they welcome phone calls from travelers looking for even more alternatives.
"We're here to help, that's what we do. We'll help guests find things to do to fill their time as we wait for what will hopefully be a quick resolution."