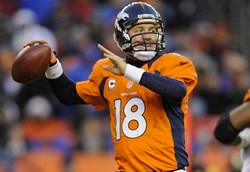 Denver, Colorado (PRWEB) October 03, 2013
It's a wonderful time of year for sports fans. The NHL Hockey season just took the ice on October 1. MLB Baseball is in the do-or-die post season.
The 68th NBA Basketball season set to hit the hardwood on Tuesday, October 29, 2013. Then there's NFL Football, now four games into the 16-game regular season.
Ticket sales for all four of the major league sports teams are trending very high at the moment, according to Felina Martinez at BuyAnySeat.com.
Today's top selling NFL teams include the Dallas Cowboys, Kansas City Chiefs, Cleveland Browns, Miami Dolphins, and Detroit Lions.
As per this week's Fox Sports Power Rankings, the top ranked teams, in order of rank, are the Peyton Manning-led Denver Broncos, Seattle Seahawks, New England Patriots, New Orleans Saints, Kansas City Chiefs – teams that are all 4-0.
"While NFL Football and MLB Baseball tickets are trending, we're seeing an increase in sales for NHL and NBA tickets as well, including seats for the Advance Auto Parts Monster Jam," said Felina Martinez at online ticket marketplace BuyAnySeat.com.
"That's why we're proud to offer sports fans the most comprehensive and continuously updated selection of sports tickets online, with a worry-free guarantee to protect their purchase," said Martinez.
"To access the full line-up of NFL Football tickets now available, customers can go to BuyAnySeat.com and click on NFL Football – then select their team and their tickets," said Martinez.
The National Football League (NFL) is a professional American football league composed of 32 teams divided equally between the National Football Conference (NFC) and the American Football Conference (AFC). The regular season runs for 17 weeks, starting the week after Labor Day to the week after Christmas. Each team plays 16 games and has one bye week.
Out of the league's 32 teams, six (four division winners and two wild-card teams) from each conference compete in the NFL playoffs, a single-elimination tournament culminating in the Super Bowl, played between the champions of the NFC and AFC.
The champions of the Super Bowl are awarded the Vince Lombardi Trophy; various other awards exist to recognize individual players and coaches. This year's title game, Super Bowl XLVIII, is scheduled for MetLife Stadium in East Rutherford, New Jersey on Sunday, February 2, 2014.
This week's `must-see' match ups include the Kansas City Chiefs (4-0) at the Tennessee Titans (3-1), the Seattle Seahawks (4-0) at the Indianapolis Colts (3-1), and New Orleans Saints (4-0) at the Chicago Bears (3-1.
More match-ups include the Denver Broncos (4-0) at the Dallas Cowboys (2-2), Baltimore Ravens (2-2) and Miami Dolphins (3-1), New England Patriots (4-0) versus the Cincinnati Bengals (2-2), Houston Texans (2-2) and San Francisco 49ers (2-2), and Detroit Lions (3-1) versus the Green Bay Packers (1-2).
To shop for discount NFL Football tickets, visit BuyAnySeat.com.
About BuyAnySeat.com: An online ticket marketplace, BuyAnySeat.com connects sports, theater and other live entertainment fans to an extensive network of ticket sellers worldwide. The site's simplified listings and navigational tools enable shoppers to easily locate, compare and purchase inexpensive, discounted or lower-priced tickets to virtually all advertised sports and entertainment events around the globe.
The ticket marketplace, which is PCI-compliant and Norton Secured, also provides customers with a complete Worry-Free Guarantee on all ticket purchases. Based in Denver, Colorado, BuyAnySeat.com is a subsidiary of Denver Media Holdings. For more information, please visit http://buyanyseat.com.