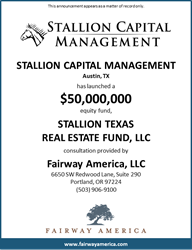 We had thought a fund was the right direction for us...but we struggled to locate someone who inspired confidence in us that they knew how to balance all the issues effectively.
Austin, TX (PRWEB) October 03, 2013
Fairway AmericaTM ("Fairway") played the lead role in consulting, advising and guiding the structure and formation of the Stallion Texas Real Estate Fund (the "Fund") in Austin TX which made its first investment in May of this year. The Fund's Manager, Stallion Capital Management, LLC ("SCM") is affiliated with Stallion Funding, a residential and commercial private money lending firm owned and operated by Vincent Balagia.
Mr. Balagia has been a passionate entrepreneur in the Austin community for many years and has worked extensively with hundreds of bankers, brokers, borrowers, real estate investors, and capital investors during his lending career. He began his career working for banks and other financial services company before gravitating to the private lending world in 2005. He launched Stallion Funding in 2007, starting with one investor and one loan, and has led the firm's ascent as one of the highest performing private money lenders in central Texas. His rapid growth led him to consider how to create a more effective and sustainable capital structure going forward. "After several years of matching up individual deals with investors, we believed there just had to be a more effective way for us as a company and for our clients to invest in real estate notes. This led us to the fund concept and ultimately to Fairway as an outstanding resource to help us set it up and run it properly."
Stallion Funding's strong reputation and deal flow made them an ideal candidate for a fund. But finding the right partner to help with the myriad business issues, details, and economics of a fund was not an easy task. "We had thought a fund was the right direction for us to go for quite a while", said Balagia, "but we struggled to locate someone who inspired confidence in us that they knew how to balance all the issues effectively. Fairway clearly had been there and was able to demonstrate immediately that they knew what they were doing. And the process we went through helped us truly understand the decisions we were making so by the end, we felt really good about communicating with our investors."
SCM has also engaged Fairway to handle the ongoing back-end administration for all of the Fund's activities. "We are great originators and lenders, but we understood there were a lot of things around fund administration that we wouldn't be familiar with", said Balagia. "Engaging Fairway gives us as fund manager a lot of confidence and we believe also should inspire confidence in our investors that the fund is being administered professionally and properly. We get to focus on origination, underwriting and raising capital and yet know the important details are being handled. Fairway brings a level of experience and insight that has helped us get the Fund off the ground and concentrate on what we know best."
About Stallion Funding
Stallion Funding is a private real estate finance company that currently specializes in making investments from $100,000 to $5,000,000. They have been involved with more than $50 million worth of transactions in Texas alone. Our emphasis continues to be investments that banks and other funding sources have difficulty financing because of timing, complexity, or other factors. To learn more about Stallion Funding, visit http://www.stallionfunding.com.
About Fairway America
Fairway America, LLC is a long-time real estate lender, fund manager and boutique real estate finance advisory firm providing strategic business planning services nationwide to select private money lenders and real estate operators around the structure, architecture, and administration of proprietary 506 Reg D mortgage pool funds. Fairway AmericaTM is a trademark of Fairway America, LLC. All other marks are the property of their respective owners. To learn more about Fairway America, visit http://www.fairwayamerica.com.