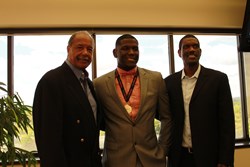 Syracuse, NY (PRWEB) October 03, 2013
On September 27th, the HearStrong Foundation celebrated two HearStrong Champions in two different states.
Since its founding in January, HearStrong has honored many HearStrong Champions across the country for their perseverance in overcoming their hearing loss and inspiring others to do the same. But, last Friday marked the first time the foundation celebrated two Champions at two different ceremonies in two different states in one day.
In the morning, the foundation honored Joshua McGriff at Oticon in Somerset, NJ. Joined by basketball legends Tom Hoover and Albert King, Joshua received his official HearStrong medal and champion certificate.
Diagnosed with hearing loss as an infant, Joshua refused to let it keep him from experiencing his life and accomplishing his dreams of playing basketball. With the assistance of his hearing devices, Joshua was able to not only lead his high school team in blocks, rebounds and scores, but also represent the U.S. as a member of the men's basketball team at the 2013 Deaflympics in Bulgaria. Currently, Josh is studying studio art and digital media at Gallaudet University.
In the evening, the foundation honored Bradley Peterson in DuBois, PA. Bradley is a high-school junior who overcame his hearing loss to live his dream of playing on his school's football team. To make the ceremony as special as possible for him, his family and his community, the foundation honored him on his 50-yard line, just minutes before he and his team took the field to play their homecoming game.
Roughly 36 million Americans suffer from hearing loss—and that number is on the rise. Recent studies have shown that one in five teenagers has hearing loss, as well as 60% of veterans returning from Iraq and Afghanistan. However, due to lack of education and negative connotations, many people choose to not seek treatment.
With the help of its champions, The HearStrong Foundation is working to end that once and for all.
About HearStrong:
The HearStrong Foundation strives to recognize the accomplishments of those who have overcome hearing loss and live their lives to the fullest. Headquartered in Syracuse, NY, the foundation is a world-wide advocate for hearing loss awareness, education and support. For more information about the foundation, or to nominate a HearStrong Champion, please contact:
info(at)hearstrong(dot)org
Like us on Facebook
Follow us on Twitter