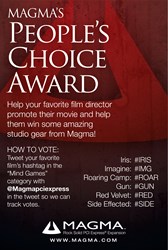 San Diego, CA (PRWEB) October 02, 2013
Magma, a developer of computer expansion products for servers, desktops and portable platforms, announced its participation as a sponsor for the San Diego Film Festival as a part of the companies outreach program to show the potential of expansion computing solutions for creative professionals. A first time participant in the event, Magma plans to give samples of its top selling Thunderbolt(tm) PCIe expansion solution to the director of the "people's choice" short film in the "Mind Games" category during the festival.
"Getting involved with the San Diego Film Festival is a logical way for us to expose area filmmakers to the benefits of Thunderbolt PCIe expansion solutions," said Magma spokesperson Victoria Kohlhorst. "Our products help filmmakers with pre and post-production editing, allowing them to harness the power of the latest advances in video technology that doesn't always fit in a standard Mac or PC."
Magma representatives will be participating in various events throughout the duration of the festival. The company's focus during the event is the "Mind Games" short films category that will be featured during sessions on Friday evening at the ArcLight Theater in La Jolla, and Sunday at the Reading Theater in the Gaslamp Quarter. The Mind Games segment focuses on dramatic and suspense productions.
"We chose to focus on the short films because those directors are the future of the film industry, said Kohlhorst. "We want to help them to promote the work that they have created, and help them to create the work that they are dreaming about for the future."
Film Festival attendees will have the opportunity to help their favorite directors win Magma products by voting for their favorite "Mind Games" category by visiting http://www.twitter.com and tweeting @magmapciexpress and the hash tag of their favorite film. Results of the voting will be tallied throughout the festival. The film with the highest number of votes will be given the "Magma People Choice Award" and the director will receive Magma gear. The films in that category are "Iris" (#iris), "Roaring Camp" (#roar), "Gun" (#gun), "Red Velvet" (#Red), and "Side Effected" (#side).
About Magma
Magma develops and manufactures expansion computing solutions using Peripheral Component Interconnect (PCI), Peripheral Component Interconnect Express (PCIe), and Thunderbolt Systems for servers, desktops and portable computing platforms. Magma's line of products includes enclosed and non-enclosed solutions ranging from single slot expansion products to fault-tolerant, Reliable Available Serviceable (RAS) systems specifically designed for mission critical environments. Magma products are platform independent and are used in a variety of industries including audio and video production, test and measurement, medical imaging, surveillance, aerospace and defense, telecommunications, data acquisition, and high performance computing. Magma's team of experienced engineers has been developing expansion and connectivity solutions since 1987 and holds more than a dozen technology patents, making them a pioneer and leader in the market space. All Magma products are designed and assembled in the United States.
For more information about Magma, call (800) 285-8990 or visit our website at http://www.magma.com.