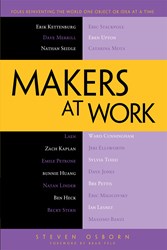 "It is the only book of interviews and stories from the thought-leaders and entrepreneurs leading the charge," – Author Steven Osborn
New York, NY (PRWEB) October 03, 2013
In "Makers at Work" released by Apress Media, author Steven Osborn puts a spotlight on the makers who are reinventing the world one object or idea at a time, and helps make sense of the new products driving the technological revolution. According to Osborn, "it is the only book of interviews and stories from the thought-leaders and entrepreneurs leading the charge."
The book defines what a maker actually is, and references different types of makers all the way from an electronic hobbyist, to a kitchen table inventor. Learn how the makers master the magic of making sophisticated products available to customers faster than most large corporations do, and how the masterpiece products are funded, manufactured, assembled, and delivered. The makers explain how to make weekend projects profitable, how to use crowd funding to make small visions a big reality, and how to use open-source hardware and software to remove entry barriers for inventors.
Readers are not just privy to reading 21 in-depth interviews by Osborn, but also get to step into the minds, thoughts, and logic of the most successful makers in the field, who have turned their ordinary visions into realistic, and extraordinary technological gold.
For more information on, "Makers at Work," please visit http://www.apress.com/9781430259923.

ISBN: 978-1-4302-5992-3
324 pages
User Level: Beginner to Advanced
Publication Date: September 23,2013
Available eBook Formats : EPUB, MOBI, PDF
Print Book Price : $29.99
eBook Price: $20.99
About the Author
Steven Osborn is a serial start-up entrepreneur, software hacker, and hardware enthusiast. In 2009 he co-founded a mobile messaging company called Urban Airship (urbanairship.com) which powers millions of mobile applications on iPhone and Android for companies like Starbucks, Redbox, and ESPN every month. Steven, is also the cofounder of the maker/"Internet of Things" forum, Thing Tuesday. With over a decade of experience in the industry he has participated in all stages of a software company from startup to acquisition.
About Apress Media
With more than 1,500 books in print and e-formats, Apress is the authoritative source for IT professionals, software developers, and business leaders all over the world. Apress provides high-quality, no-fluff content that helps serious technology professionals build a comprehensive pathway to career success. Since 2007, Apress has been part of Springer Science+Business Media, one of the world's leading scientific, technical, and medical publishing houses, enabling global distribution of Apress publications. For more information, please visit http://www.apress.com.